Srebrenica defender Naser Oric cleared of war crimes in Sarajevo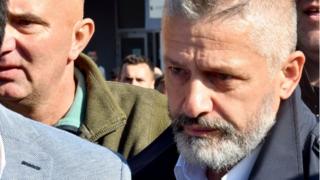 Former Bosnian Muslim commander Naser Oric has been acquitted of war crimes by a court in Sarajevo.
Mr Oric and another military veteran, Sabahudin Muhic, were cleared of killing three Bosnian Serb prisoners near Srebrenica in 1992.
He was arrested in Switzerland in 2015 on a Serbian warrant but extradited to his country to face charges.
Many Bosnian Muslims consider him a hero for leading the defence of Srebrenica during the 1992-95 war.
However, families of Bosnian Serbs killed in the war - who see Mr Oric and his troops as criminals - walked out of the Sarajevo court in protest at its judgement on Monday, Reuters reported.
In 2006, Mr Oric was convicted by the international war crimes tribunal in The Hague of failing to prevent men under his command killing and mistreating Bosnian Serb prisoners in 1992-93. He was freed as he had already spent more than three years in jail.
His conviction was quashed on appeal in 2008.
The latest court case also related to crimes alleged to have taken place several years before the Srebrenica massacre.
In July 1995, in what was supposed to have been a UN safe haven, Bosnian Serb forces took control of Srebrenica. They rounded up and killed about 8,000 men and boys and buried them in mass graves.