EU considers reducing $5bn accession aid to Turkey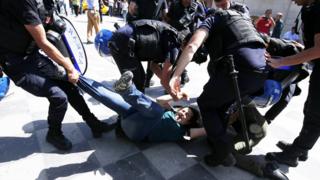 The EU is considering cuts to the aid that it gives Turkey after German Chancellor Angela Merkel put the issue on the summit agenda in Brussels.
She linked the move to Western criticisms of Turkey's rights record.
"We have huge concerns," she said, referring to the mass arrests in Turkey since President Recep Tayyip Erdogan quelled a coup attempt in June 2016.
As a candidate to join the EU, Turkey is receiving 4.5bn euros (£4bn; $5.3bn) in aid from the EU in 2014-2020.
The aid is aimed at raising Turkey's public institutions to EU standards, including the judiciary, but there is also aid for education, training, infrastructure and agriculture.
It is separate from the EU funding that Turkey gets to help more than three million refugees on its soil, most of them Syrians who fled their country's devastating war.
On that score, Mrs Merkel said, "Turkey is doing a great job."
"We have promised 3bn euros for the coming years in addition to the 3bn that we have already committed. We need to deliver on this promise."
The EU sees that aid as vital to keep Turkey committed to a 2016 deal to stop boatloads of migrants and refugees entering the EU via Greece.
Turkey's negotiations for EU membership are frozen but Mrs Merkel resisted strong pressure within Germany to break off the talks.
Austria's election winner and likely new chancellor, the conservative Sebastian Kurz, is among those calling for Turkey's membership bid to be abandoned.
"We asked the [EU] Commission to think again about the accession help that Turkey gets," Mrs Merkel told reporters late on Thursday.
EU divisions over how to handle Turkey were reflected in the non-committal summit statement: "The European Council held a debate on relations with Turkey."
For months Turkey has traded angry rhetoric with German politicians because of Berlin's criticism of its human rights record.
A number of Germans are among the thousands of journalists, academics and civil society activists arrested in Mr Erdogan's post-coup crackdown.