Tallaght: Arrest in hunt for armed man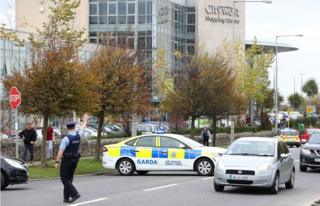 Police searching for an armed man who went on a crime spree in County Dublin - hijacking five cars and hitting one owner with a gun - have made an arrest.
The gunman spent almost eight hours on the run, during which he crashed one car, broke into a house and stole a new car from a showroom.
Irish broadcaster, RTÉ, said the hunt began after the man argued with his partner at her Brookview Way home.
He drove off in her car and crashed it at Russell Square in Tallaght.
He then hijacked another car at the scene of the crash, but later abandoned it and broke into a house in the Watergate estate.
He reportedly hit a man in the house with the butt of his gun before stealing his black Renault Kadjar.
At that point, Gardaí (Irish police) issued a description of the suspect and the stolen Renault and warned people not to approach the gunman.
RTÉ said the fugitive abandoned the Renault on the Naas Road and hijacked a Volvo.
He then drove to a car showroom, threatened a salesman at gunpoint and drove off in a new Subaru Integra.
Gardaí began a pursuit but he got out of the Subaru and ran into the City West shopping centre.
A man in his 30s was arrested by armed Gardaí in the building at about 14:00 local time.
A spokesman said officers recovered a suspected firearm at the scene.