'Crazy Brabant Killers': Brussels murder mystery 'clue'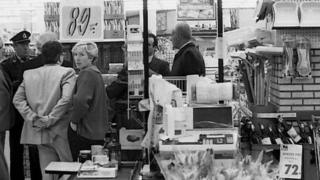 The apparent deathbed confession of a former policeman could end a series of unresolved murder cases which have baffled Belgian police for decades.
The "Crazy Brabant Killers", as they were known, murdered 28 people in Brabant province around Brussels in a series of robberies in the 1980s.
They were never caught. Their ability to outwit police led to accusations of collusion and cover-ups.
The gang's members were dubbed the "The Giant", "The Killer" and "The Old Man".
They targeted shops' petty cash holdings and low-value items, but they would also spontaneously gun down customers.
Belgian authorities confirmed they were following a new line of inquiry after a man came forward to say that his brother, a former police officer, had confessed to being "The Giant".
"In the beginning I was in denial because I really struggled with it, but today I can say formally that this is my brother," the unnamed man told broadcaster VTM as he recalled how his brother had confided in him two years ago as he lay dying that he was the tall suspected ringleader of the gang.
'Bitter'
The suspect has been named by local media as Christiaan Bonkoffsky.
He was dismissed from an elite police commando unit called the Diana Group in 1981 following the accidental discharge of his gun, media reports quoted his brother's lawyer as saying.
He became bitter about this abrupt end to his career and began drinking heavily, his brother's lawyer is reported as adding.
The gang's infamy was at its peak in 1983 when they robbed a grocery store at Nivelles and killed a couple who had stopped at an all-night fuel station next door, before shooting police officers arriving at the scene.
Their activities abruptly ended in November 1985, after a raid in the Brabant province around Brussels when they burst into a supermarket in Aalst and killed eight people, including a nine-year-old girl who was waiting in a car outside.
"The Killer" was believed to have been fatally wounded by the police in the shoot-out that ensued, but no body was ever found.