Dublin student president 'ousted over abortion views'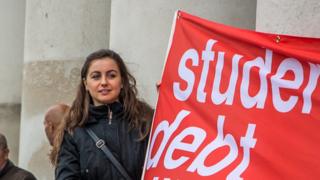 The ousted president of University College Dublin (UCD) Students' Union has said she was voted out of her post for holding anti-abortion views.
Students voted to impeach Katie Ascough last week after she stopped information on abortion from being published in a magazine aimed at first year students.
Campaigners said she had repeatedly acted against the union's stance against Ireland's strict abortion laws.
But they denied her removal was about her "personal views".
'Possible prosecution'
Some 4,540 students - or 69% of those who voted - were in favour of impeachment, while 2,320 voted against.
UCD has a total student population of 33,460.
A journalist with Ireland's leading student newspaper claimed the row was the "first major skirmish" ahead of a referendum on Ireland's constitutional ban on abortion next year.
Ms Ascough, who is an anti-abortion campaigner, said she believed the publication of the information about abortion would have exposed both her and the union to criminal proceedings.
She has published legal advice she received from the students' union solicitor, which said the "prudent course of action would be avoid proceeding" with publishing the abortion information in the student handbook.
The advice also said that prosecution was possible due to Ireland's laws regarding the dissemination of information on abortion.
The magazines had already been printed, however, and reprinting them without the information on abortion cost the students' union €8,000 (£7,000).
Abortion in the Republic of Ireland
The Republic of Ireland has a near total ban on abortion.
In 2013, abortion was permitted for the first time in the country under certain conditions - when doctors deem that a woman is at risk of taking her life, or that her life is at risk due to medical complications.
The law does not allow for terminations in cases of rape or incest, or when there is a foetal abnormality.
The law was introduced in the wake of the case of an Indian woman, Savita Halappanavar, who died in a Galway hospital in 2012 after she was refused an abortion.
The eighth amendment to the Republic's constitution, introduced in 1983, "acknowledges the right to life of the unborn".
In what was known as the X Case of 1992, a 14-year-old rape victim was initially prevented from travelling to England to terminate her pregnancy.
This ruling was overturned by the Irish Supreme Court and a referendum approved a further update to the constitution, stating that the eighth amendment did not restrict the freedom to travel to another state.
However, students calling for her impeachment said Ms Ascough would have been aware that Irish student unions have been publishing similar information for more than 20 years, and that no union had ever been prosecuted or fined.
Amy Crean, head of the Vote Yes to Impeach campaign, said student unions had also distributed condoms when they were illegal in the Republic of Ireland.
'Excuse to oust me'
Speaking after the result, Ms Ascough thanked her campaign team and said: "This is a sad day for me, but it is also a sad day for our university.
"Universities should be a place of freedom of speech, freedom of thought and freedom of association."
She accused those who worked for her impeachment of manufacturing a campaign against her because of her anti-abortion views, and said that the result had shone a light on "the intolerance of some".
"The very day of my election, some people were already calling for my impeachment," she said in a statement on Monday.
"It was just a question of finding an excuse to oust me."
However, Ms Crean said the campaign to impeach Ms Ascough "was not about personal views, but the way those views undemocratically took priority over the wishes of the student body".
Ms Ascough was elected as student union president earlier this year with 36% of the vote in a four-way race, and has said that she did not try to "impose her views on other students".
She had advocated in an earlier referendum that the university remain neutral on the abortion question, but the majority of UCD students voted to oppose Ireland's Eighth Amendment.
Ms Ascough did not mention abortion in her presidential campaign manifesto, however.
'First major skirmish'
Róisín Power, the assistant editor of the University Times, Ireland's largest student newspaper, said she had worked extensively on the impeachment story, and was in no doubt that the abortion issue was central to it.
"Katie Ascough has brought the pro-life versus pro-choice debate to the national stage," said Ms Power.
"However, we should be careful about overstating the pro-life v pro-choice narrative.
"At the end of the day, this was an impeachment referendum because a president broke a mandate.
"[It was] a significant mandate in a significant year, but I don't think anyone should think she was impeached simply for being pro-life.
"This is the first major skirmish of the abortion debate ahead of next summer, and it is significant it happened at a student level," she added.