Irish rail services hit by one-day-strike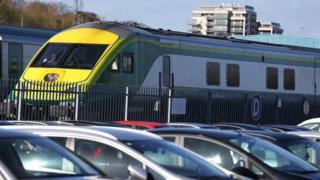 Rail services in the Republic of Ireland are being disrupted by a strike on Wednesday due to a dispute over pay.
Irish national broadcaster, RTE, reports that staff want a "no strings attached" pay rise of 3.75% per year.
About 155,000 customers are expected to be affected, including 70,000 Dart users and 40,000 Intercity customers.
The strike will also disrupt the cross-border Enterprise service, according to Northern Ireland public transport operator, Translink.
A Translink spokeswoman said Enterprise trains will still operate between Belfast and Newry on Wednesday, but they will not cross the Irish border.
Wednesday's industrial action is due to cost Iarnród Éireann (Irish rail) 900,000 euros (£790,000).
The firm has said pay increases must be contingent to productivity.
It added that strike action will only make matters worse for all parties involved.
Further strikes are scheduled for 7 November, 14 November, 23 November, and 8 December.