Fake breath tests report prompts Garda watchdog call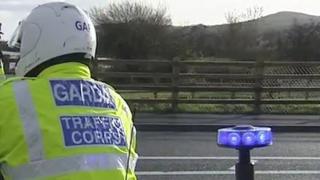 The scandal over fake roadside breath tests in the Republic of Ireland has prompted the main opposition party to call for more supervision of police.
Earlier this year, it was revealed a high percentage of drink-driving tests recorded by Gardaí (Irish police) never took place and results had been faked.
This week, the Policing Authority found there could be 400,000 more fake tests than the previous estimate of 1.45m.
The Fianna Fáil party has called for the watchdog to be given more powers.
The scandal first emerged in March, when senior Gardaí admitted it was likely that almost half of their recorded roadside breath tests had never been carried out.
Officers were criticised for simply "making up" test results in a bid to boost their perceived road safety performance.
The estimated number of fake tests was later revised upwards to 1.45m by Gardaí, but in a new report, the Policing Authority said it believes the real figure could be closer to 1.85m.
'Pressure to discipline'
Fianna Fáil's justice spokesman, Jim O'Callaghan, claimed there is problem with supervision and management at the heart of the force.
He said he is proposing legislation that would compel the head of the Gardaí to inform the watchdog of any internal audits and reports.
The figures released by the Policing Authority put more pressure on the Acting Garda Commissioner, Donal O'Cualain, to discipline those responsible.
The authority's chairwoman, Josephine Feehily, said she "encouraged" Commissioner O'Cualain to set out what action he plans to take against individual officers.
Specifically, she wants action against chief superintendents in 14 divisions who declined to investigate the inflated figures in their areas, despite a request from management.
She said she wanted the commissioner to "reflect" on the matter before he appears before the Policing Authority's next meeting later this month.
In its report, the authority is highly critical of the culture within the force that did not recognise the importance of accurate recording.
It said this culture - across all ranks - enabled unethical behaviour by gardaí who falsified checkpoint data.
'Appalling'
Ms Feehily said inadequate supervision and poor performance management is at the heart of the controversy.
"These cannot be explained away simply by issues relating to lack of training and resources," she added.
The scale of the scandal can be seen when one takes into account the Republic of Ireland's population of 4.8m people.
Then excludes all those under 18 and those who do not have a driving licence.
It would mean that nearly every driver in the state would have had to be tested, when anecdotally everyone knows that is not true.
It is also noteworthy that no member of the force used whistle-blowers protection to disclose what was happening.
Mr Callaghan said it would be a waste of resources to pursue every individual officer involved.
The acting head of the force admitted the report had found "unacceptable failure in our systems, processes, internal oversight, supervision, governance, management and culture".
Mr O'Cualain added that the failures were both "collective" and "appalling" and said the force was working to change its systems and culture.
Justice Minister, Charlie Flanagan, said cultural change in the gardaí is more important that increasing police numbers or budgets.