Emmanuel Macron writes Eiffel Tower poem for UK schoolgirl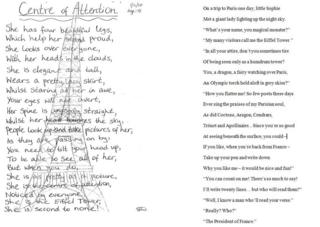 French President Emmanuel Macron has written a poem to a British school girl on the occasion of her 13th birthday.
It is Mr Macron's response to a poem she wrote about the Eiffel Tower during a family trip in April, said the French embassy in London.
"On a trip to Paris one day, little Sophie met a great lady lighting up the night sky," his poem opens. It imagines conversation between her and the tower.
The girl's identity is a mystery. She is referred to only as Sophie.
Sophie was so impressed by the Eiffel Tower on her visit that she penned a poem to the monument and sent it to the Elysée, the official presidential residence.
The words of her poem were written on top of a drawing of the tower, which she describes as "elegant and tall, second to none, with her head in the clouds".
But was the poem written in English or French?
Hugh Schofield, BBC News, Paris
Throughout the day it was universally reported in the French media that President Macron wrote the poem to Sophie in English.
But he didn't. He wrote it in French, and it was translated by the French embassy in London.
Suspicions were aroused because the French version is far more structured and literary in style than the English version. It rhymes and scans, and feels like a genuine piece of simple poetry.
The English version - while enjoyable in its way - reads like a translation. It is more stilted, and the imagery works less well than in the French.
How likely was it that the president would have written a poem in English, and then seen it improved into a decent French poem in translation? And yet that was the version we were all being told.
Late on Thursday afternoon the French embassy in London confirmed to the BBC that, yes, it was they who translated the president's French poem into English.
On Wednesday, the French embassy tweeted a photo of both poems side by side.
Sophie's poem
Centre of Attention
She has four beautiful legs,
Which help her stand proud,
She looks over everyone,
With her heads in the clouds,
She is elegant and tall,
Wears a pretty, lacy skirt,
Whilst staring at her in awe,
Your eyes will not avert,
Her spine is amazingly straight,
Whilst her head touches the sky,
People look up and take pictures of her,
As they are passing on by,
You need to tilt your head up,
To be able to see all of her,
But when you do,
She is as pretty as a picture,
She is the centre of attention,
Noticed by everyone,
She is the Eiffel Tower,
She is second to none.
President Macron's poem
On a trip to Paris one day, little Sophie
Met a giant lady lighting up the night sky.
"What's your name, you magical monster?"
"My many visitors call me the Eiffel Tower."
"In all your attire, don't you sometime tire
Of being seen only as a humdrum tower?
You, a dragon, a fairy watching over Paris,
An Olympic torch held aloft in grey skies?"
"How you flatter me! So few poets these days
Ever sing the praises of my Parisian soul,
As did Cocteau, Aragon, Cendrars,
Trenet and Apollinaire…Since you're so good
At seeing beneath the surface, you could-
If you like, when you're back from France-
Take up your pen and write down
Why you like me-it would be nice and fun!"
"You can count on me! There's so much to say!
I'll write twenty lines…but who will read them?"
"Well, I know a man who'll read your verse."
"Really? Who?"
"The President of France."