Ibrahim Halawa says he was never member of Muslim Brotherhood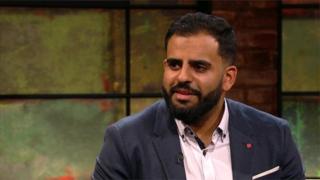 An Irishman who spent more than four years in an Egyptian prison has said he has never been a member of the Muslim Brotherhood.
Ibrahim Halawa was 17 when he was arrested during a siege at the Al-Fath mosque in Cairo in August 2013.
Now 21, he was acquitted of all charges in September and released in October.
The family had always denied claims he was a member of the Muslim Brotherhood, Egypt's oldest and largest Islamist organisation.
Speaking on Irish national broadcaster RTÉ's The Late Late Show on Friday, he said he did not support their ideology.
He told the programme that he had been going to go on holiday to Ibiza with friends but instead went with his sisters to visit extended family in Egypt.
While there, they took part in protests against the ousting of then president Mohammed Morsi.
Mr Halawa said taking part in the protest was a reaction to an incident where two friends he met there were shot and killed.
He said: "I was going back to a concert and my friends were going to their graves. I had to give my opinion on that".
Mass trial
He was detained by the Egyptian security forces after he and three of his sisters were caught up in a siege at a mosque in Cairo in August 2013.
The women were freed and allowed to return home within three months, but their teenage brother was kept in jail.
He faced a mass trial with hundreds of others under threat of the death penalty.
Mr Halawa told the programme about his time in prison.
'Mother's pain'
"They beat me up in front of my mum once so I went on hunger strike for that. My mum had heard a rumour I was sick," he said.
"She came in to visit me like a normal mother who's scared for her child.
"The guard started to beat me up in front of her. My mum was crying and screaming and I couldn't do anything.
"You forget the pain of the beatings but you remember the pain of your mother. I was 18 at that point."
He said while he was imprisoned with members of the Muslim Brotherhood he does not support their ideology.
He said "I would differ with them a lot on so many points".
He said the rally he attended was not a Brotherhood rally but had members of human rights groups and Christians.
Mr Halawa said he will never return to Egypt again and wants to campaign for people falsely imprisoned abroad.