Catalonia ex-officials freed by Belgian judge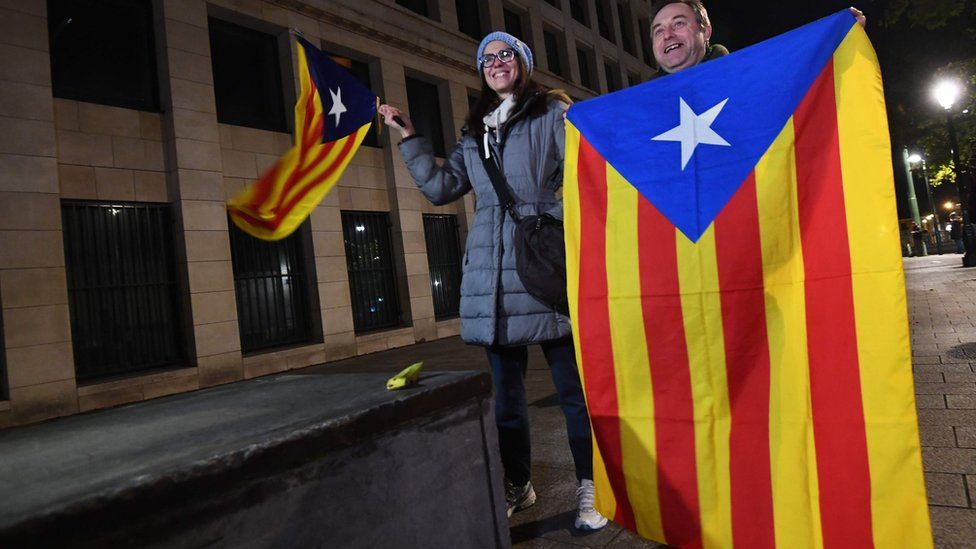 Former Catalan leader Carles Puigdemont and four former ministers have been freed with conditions by an investigating judge in Belgium.
The judge said they could not leave the country without permission and had to give details of their accommodation.
They had handed themselves in to Belgian police following an EU arrest warrant issued by a Spanish judge.
Mr Puigdemont fled to Belgium after Madrid imposed direct rule on Catalonia following an independence declaration.
He has said he will not return to Spain unless he is guaranteed a fair trial.
The five are wanted in Spain to face charges including rebellion, sedition and misuse of public funds.
They are now expected to appear in court in Belgium within 15 days. Belgium has a maximum of 60 days to return the five to Spain but, if they do not raise legal objections, a transfer could happen much sooner.
"The request made this afternoon by the Brussels' Prosecutor's Office for the provisional release of all persons sought has been granted by the investigative judge," said a statement by the Belgian prosecutor's office.
Mr Puigdemont's political party, PDeCAT, said he had surrendered to police to show his "willingness not to flee from the judicial process but to defend himself in a fair and impartial process, which is possible in Belgium, and highly doubtful in Spain".
Last week, Spanish Prime Minister Mariano Rajoy imposed direct rule on Catalonia following a declaration of independence in the regional parliament. He sacked Mr Puigdemont, dissolved the parliament and called local elections for 21 December.
The declaration of independence followed a referendum that the Spanish constitutional court had declared illegal.
Mr Puigdemont's colleagues also listed on the EU arrest warrant are Meritxell Serret (former agriculture minister), Antoni Comín (former health minister), Lluís Puig (former culture minister), and Clara Ponsatí (former education minister).
They all handed themselves in to Belgian federal police, accompanied by their lawyers, on Sunday morning and were questioned in a hearing lasting 10 hours.
There were more protests in Catalan cities on Sunday against the detention of officials and activists held by the Spanish authorities.
Protesters plastered city squares with posters depicting the detainees as political prisoners.
Eight politicians are being held in an investigation into alleged rebellion and sedition linked to Catalonia's declaration of independence.
Two activists are being detained in a separate investigation.