Ireland considers 'coffee tax' to cut back on disposable cups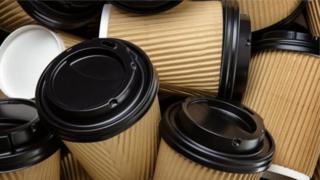 The Irish government is considering a new "latte levy" to cut down on the use of disposable cups.
Environment Minister Denis Naughten said a tax - similar to the plastic bag tax - is under consideration.
He told the Irish Independent that every day two million throwaway cups were being sent to landfill.
The Scottish government is also considering a mandatory coffee cup charge in a bid to end the "throwaway culture".
Scottish Environment Minister Roseanna Cunningham has said that the government would be looking at financial incentives to reduce waste.
Mr Naughten and Ms Cunningham have held meetings about tackling waste.
"These are landfills that are already bursting at the seams," said Mr Naughten.
"International research shows that combining financial incentives, reusable alternatives and better messaging around environmental impact of single-use coffee cups all have a direct impact on consumer behaviour so that's what Minister Roseanna Cunningham and myself will be looking at together.
"What I discussed with her is how best we can pool resources to come up with solutions that will work."
Last year, the UK government said it had no plans to tax coffee shop cups after a minister suggested it could repeat its success in cutting plastic bag waste.
Earlier this year, the UK government set up a litter strategy working group to consider the disposal of commonly littered items, including disposable coffee cups.
In the Republic of Ireland, Mr Naughten said he wanted to change consumer behaviour using financial incentives, reusable alternatives and improved messaging about the environmental impact of so many disposable cups.
In the minister's own constituency, there is a pilot project in Roscommon where cafes give discounts to customers using reusable cups.
"A similar scheme operates in New York with an added benefit that probably pertains to the New York style of living more than here. By using a reusable cup you get to join the fast-track coffee queue," said Mr Naughten.
"We also intend to look at best practice and international research together on whether a coffee cup levy - similar to the plastic bag levy - would have any real effect on customer behaviour. Scotland is considering implementing a levy there."
The "latte levy" proposals are at an early stage.
A Scottish government spokesperson said: "We have committed to further our efforts to tackle throwaway culture by considering how to reduce demand for single use items like disposable cups."
"We will appoint an expert panel to advise on the possible use of charges, similar to the successful plastic bag charge, as well as other potential measures to encourage long-term and sustainable changes in consumer behaviour."
The Republic of Ireland was among the first to cut the use of plastic bags when it introduced a tax 15 years ago.
Wales introduced a levy in 2011, followed by Northern Ireland in 2013, Scotland in 2014 and England in 2015.
In 2013, Northern Ireland imposed a 5p levy and, within a year, plastic bag use fell by almost 72%.
Mark H Durkan, the environment minister at that time, said the figure equated to a reduction of about 215 million bags.
He said that the £4.17m raised had been invested in environmental projects.
Campaigners say that disposable coffee cups handed out in their billions are "virtually impossible" to recycle despite major cafe chains claiming theirs are eco-friendly.
According to some estimates, fewer than 1% of the 2.5bn paper and plastic cups used in the UK each year are recycled, leading to criticism of High Street cafes for stamping them with recycling logos.