Silvio Berlusconi's surprise political comeback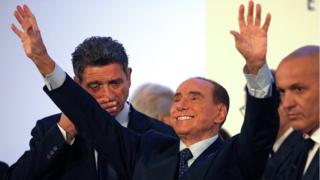 "We are the only alternative," declared Silvio Berlusconi.
Italy's former prime minister made the claim after the candidate he backed won regional elections held in Sicily on Sunday.
Mr Berlusconi corralled a coalition of centre-right parties into first place, ahead of the populist Five Star Movement and the governing centre-left Democratic Party.
The parties now take their arguments into national elections, set to be held by the spring of 2018.
It is surely surprising for Silvio Berlusconi to be at the centre of Italian politics once more. The 81-year-old's more recent incarnations - care home volunteer, open-heart surgery patient, cuddler of lambs, campaigner for a vegetarian Easter - appear now as an interlude between political campaigns.
But, as it stands, Mr Berlusconi won't be able to run for a fourth stint as prime minister. A 2013 conviction for tax fraud currently bars him from standing for office. Later this month, the Grand Chamber of the European Court of Human Rights is expected to begin hearing his appeal against this ban.
Italian politics, highly intricate even in the quietest of times, now has an unusual feature: its most dominant personalities are either out of office, or barred from running for office.
Silvio Berlusconi can't run. Nor can Beppe Grillo, the founder and loudest voice of the Five Star Movement.
Mr Grillo's own movement bans political candidates who have a criminal conviction (he was convicted of manslaughter in 1985 following a car accident).
The Democratic Party's most energetic figure, Matteo Renzi, resigned as prime minister in 2016 - and is still working out how to return to national office.
Italy is overflowing with kingmakers, who overshadow its potential kings (and queens - this country has yet to elect a female leader). The leaders, and their backseat drivers, will now position themselves ahead of next year's elections.
The centre-right will feel that it has momentum, taking advantage of voters' recent rejections of the centre-left government's handling of migration.
Silvio Berlusconi will insist on having his say. This is Italy. You are not finished as a politician in this country until you have stopped breathing.