Holy smoke: Vatican bans duty-free cigarette sales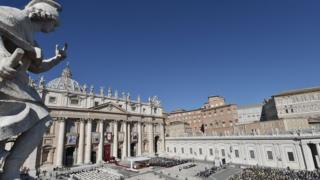 Pope Francis has ordered a ban on the sale of cigarettes inside the Vatican, beginning next year.
Vatican spokesman Greg Burke said the Holy See could not co-operate with a practice that clearly harmed people's health.
About 5,000 employees and retired staff of the Vatican are currently allowed to buy discounted cigarettes.
The sales are estimated to bring in millions of euros every year to the Vatican.
But Mr Burke said no amount of profit could be legitimate if it was costing people their lives.
He cited World Health Organization figures that blame smoking for more than seven million deaths worldwide every year .
"I think many people enjoyed it as sort of a fringe benefit," he said.
"It comes as a bit of a sacrifice for the Holy See, this was a source of revenue, but it's obviously much more important to do what is right."
Pope Francis, who had a lung removed as a teenager, does not smoke.
Vatican staff and pensioners are permitted to buy five cartons of cigarettes every month from a duty-free shop, housed in a former railway station, which is only open to those with a special pass.
Correspondents say many non-smokers inside the Vatican are asked by friends outside to buy cigarettes for them because they are cheaper than in Italy where they are heavily taxed.