Irish rail strikes suspended by unions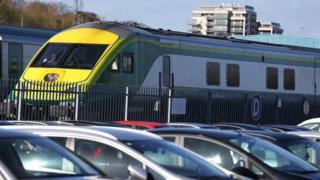 A rail strike that threatened to affect football fans travelling to the Republic of Ireland's World Cup play-off match on Tuesday has been suspended.
Staff at Iarnród Éireann, the railway network in the Republic, had planned to go on strike on Tuesday 14 November as part of an ongoing dispute.
The date clashes with the national team's play-off tie against Denmark.
They had also threatened to strike on 23 November and 8 December.
Iarnród Éireann said full train services will now operate on those dates.
The strikes have brought train services to a halt twice since 1 November.
The stoppages have been affecting thousands of customers who usually make about 150,000 train journeys each day.
The dispute also affected the cross-border Enterprise service, which only operates between Belfast and Newry on strike days.
Iarnród Éireann staff had demanded a 3.75% pay rise, which the company has argued it cannot afford as it is already financially vulnerable.
Earlier this week, the Republic's Labour Court got involved in talks and has since recommended that staff should receive pay increases worth 2.5% per year for the next three years as well as a once-off "goodwill" gesture voucher worth 500 euros (£440).
Union members will vote on the proposal on Saturday afternoon.
In a statement, Iarnród Éireann thanked the Labour Court and said it "ensured that after two days of industrial action, customers will not suffer any further disruption in the immediate term".
Irish Transport Minister Shane Ross said the suspension was "very welcome news".
Willie Quigley, regional officer for the trade union Unite, said that the Labour Court had "largely accepted the arguments made by the unions".