Spanish TV plays Exorcist tune under former Catalan leader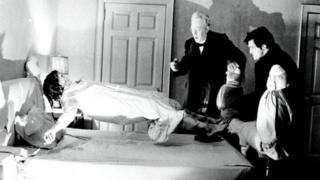 The Spanish state broadcaster has been asked to explain why it ran the theme music to the 1973 horror film The Exorcist under a clip of the ousted Catalan leader Carles Puigdemont.
The theme is taken from Mike Oldfield's composition Tubular Bells.
It was played under Mr Puigdemont's voice in RTVE's flagship current affairs programme Informe Semanal last Saturday.
RTVE's own professional standards council said this was bad practice.
It started an investigation to find out who was responsible.
Informe Semanal - the title is Spanish for Weekly Report - has been running for 43 years on national television.
Last week it focused on the Catalan crisis. At about four and a half minutes in to the programme, Mr Puigdemont's clip came on, edited with Tubular Bells underneath.
Mr Puigdemont was saying that he and others were aware they might go to jail but would fight extradition.
One Twitter user sarcastically called the use of the clip "very subtle" while another said: "Mother of God, please tell me that's been edited."
Since the last government of Catalonia held a banned vote and declared the region independent, Spain's government has imposed direct rule, sacked the government, detained some Catalan leaders and called a snap election.