Turkey: Zara shoppers find labour complaints inside clothes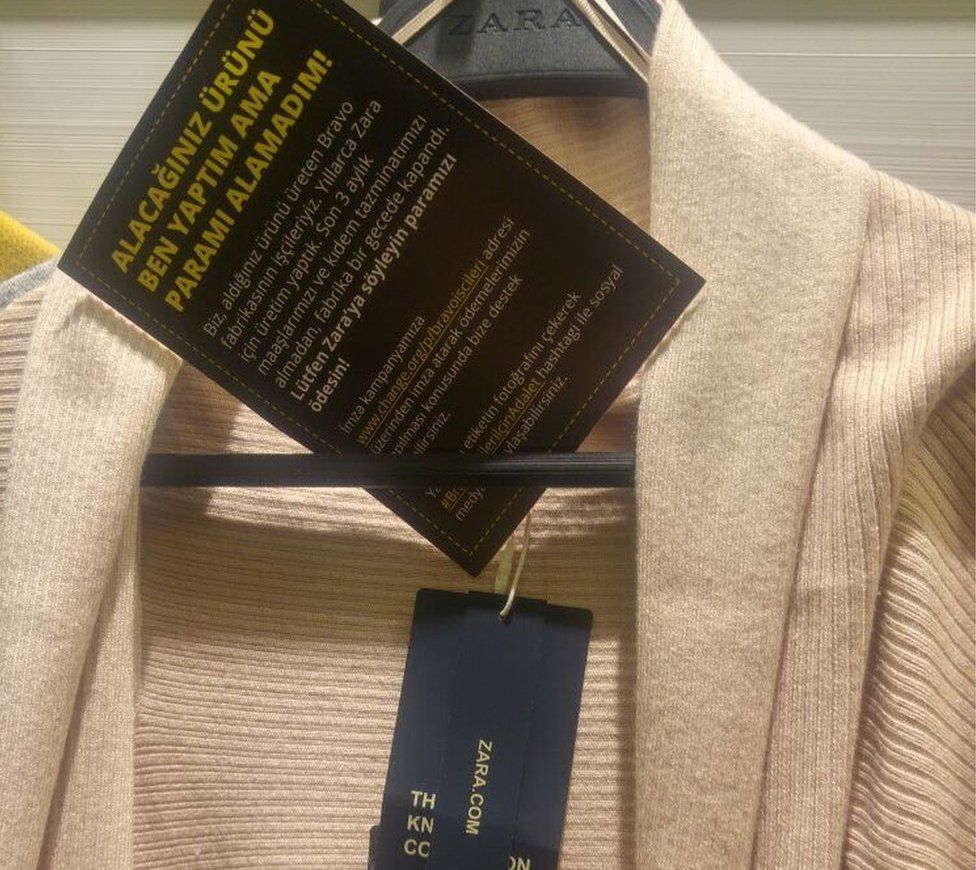 "I made this item you're going to buy, but I didn't get paid for it!"
Shoppers at Zara stores across Istanbul found these unusual tags left on garments, hidden in the crease of a pair of jeans or in the pocket of a jacket.
But who was putting out the secret messages, like a prisoner in a World War Two drama?
The tags were left by workers from local company Bravo Tekstil, which produced clothes for Zara and other big international brands like Next and Mango.
The manufacturer went bankrupt overnight in July 2016, and its workers said they were not paid in the period up to its closing. Now, they ask Zara to compensate their losses and pay them three months of back wages and severance.
"One morning we came to work, and the firm was gone. The shutters were closed down. Our boss had disappeared," said Filiz Tutya, one of Bravo Tekstil workers.
"We had no other choice but start this campaign. We put these tags on garments across every Zara store in every shopping mall across Istanbul. We don't want to harm Zara. That's not what this is about. But we want what is owed to us."
Another worker, Betul Sahin, said: "Some of us had to postpone our weddings due to financial reasons, some of us cannot send our kids to school."
"Maybe this kind of money is not a big deal for everyone. But for us every penny counts. We worked so hard for it. We ask Zara: 'Why don't you pay us? Why don't you give us our basic right?'"
Since the campaign started, thousands of people have posted supporting messages on social media using the hashtag suggested on the tags: #BravoIscileriIcinAdalet, meaning "Justice for Bravo workers".
The online petition has already been signed by over 270,000 people.
Zara's parent company Inditex said they had paid Bravo Tekstil all it was due but that money failed to make its way to the pockets of the workers.
The company said it had set up, along with Mango and Next, a hardship fund of 210,000 euros ($246,000; £188,000) to help the most vulnerable workers in need.
"There is an unjust suffering here and we're very sorry that these workers have to endure this," said Murat Akkun, Inditex's manager of sustainability in Turkey.
"But it's not us but the local firm and its boss that has caused this suffering. He has escaped justice. Turkish courts need to find this man and make him pay all that is due."
In a statement, Zara also said it "immediately took action to try to help workers in this unfair situation and that Inditex remains committed to be a part of the joint efforts to find a solution for workers".
The workers' union representative DISK Tekstil, however, underlines that if Inditex does not compensate each and every worker's lost wages, their campaign will continue.
"Zara announces to the whole world that they are responsible for each worker producing their goods. The fund they proposed only covers a quarter of the workers' losses," said Asalettin Arslanoglu from DISK Tekstil.
"There are cancer patients amongst these workers, there are those who suffered from strokes. If the brands do not compensate all of these 153 workers, we are going to continue to raise awareness with this campaign."
Spain-based Inditex is one of the world's largest fashion retailers, and it owns 7,405 stores and employs 162,450 people.
Its biggest brand Zara has previously come under fire when it was accused of slave and child labour, as well as exploiting Syrian refugees.
The Inditex group promised to look into such incidents and to strengthen supervision of its suppliers' production facilities.