Russia warns US media of 'foreign agents' designation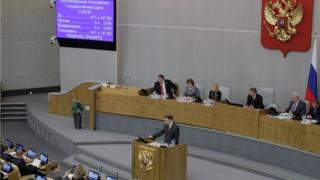 Russia has warned US-funded Voice of America and Radio Free Europe/Radio Liberty that they could be forced to register as "foreign agents".
The two broadcasters and seven outlets they run have been notified by the Justice Minister after the lower house of parliament passed a new media law.
The bill is in retaliation for Kremlin-backed broadcaster RT being told to register as a foreign agent in the US.
RT is accused of being part of Russia's alleged meddling in the US election.
The Russian law would affect foreign-registered media outlets which receive funding from abroad. They would be subject to additional requirements and failure to meet them could result in suspension of their activities.
The legislation still needs approval by the upper house and President Vladimir Putin.
The list of nine media outlets includes websites, radio and television stations run by the two US government-funded broadcasters which target the North Caucasus and Crimea.
Some of their broadcasts are in the Tatar and Bashkir languages.
They are: Kavkaz.Realii, Krym.Realii, Sibir.Realii, IdeLRealii, Current Time TV, Radio Liberty's Tatar-Bashkir service (Azatliq Radiosi) and project Faktograf.
On Wednesday, Radio Liberty said the proposal could not be seen as a reciprocal measure, as its teams face far greater obstacles in Russia than RT does in the US.
RT was forced to register as a foreign agent in the US under the Foreign Agents Registration Act (FARA). It would require RT to label anything it produces, making it clear its reports are distributed on behalf of the Russian state.
The broadcaster said it would challenge the requirement in court. Russia has denied it interfered in last year's US presidential election.