Catalonia crisis: Flemish separatists make common cause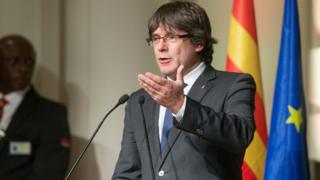 The sacked Catalan leader Carles Puigdemont and his allies have appeared briefly for a court hearing in Brussels on their possible extradition, but there is still no decision. The BBC's Kevin Connolly explains why they moved to Belgium.
When Carles Puigdemont and a handful of close allies made the difficult and desperate decision to leave Catalonia, as the Spanish authorities began their legal crackdown, it seems they had no doubt about where to go.
Not Switzerland, which sits outside the European Union, nor indeed the UK, which is itself heading for the exit.
The Catalan leader instead chose Belgium, even though the country is part of the European Arrest Warrant system. This in theory makes it almost impossible for one EU member state to decline to extradite a fugitive from justice to another.
Officially the reasoning was clear: Mr Puigdemont hoped to "internationalise" his dispute with Spain, by putting the separatist case before the European institutions in Brussels.
In fact the calculation was rather simpler.
Flemish sympathy
Belgium is perhaps the one place in Western Europe where Catalan separatists can hope for a genuinely sympathetic reception, because of their historic ties to the Flemish separatist movement, whose New Flemish Alliance (NVA) party is a powerful force in Belgian life and a strong faction in the federal government.
An NVA deputy in the Flemish parliament, Lorin Parys, tweeted a photo of himself hosting dinner for Mr Puigdemont and his allies.
Mark Demesmaeker, an NVA member of the European Parliament, confirmed that Mr Puigdemont could expect a sympathetic hearing in Flanders.
"We have been very clear," he told the BBC. "We think it is up to the Catalans to decide upon their own political future. So we defend unconditionally the right to decide and the right of self-determination for those nations that want to exercise that right. They should be able to do so. And being confronted with the political repression, yes we've been protesting very vocally against it."
It's much less clear though what the NVA can do for the Catalans beyond that vocal protest.
---
Read more on the Catalonia crisis:
The man who wants to break up Spain
Catalan ex-leader freed by Belgian judge
Catalonia crisis: What next for Spain?
Reality Check: Would Catalonia be a viable country?
---
The decision whether or not Mr Puigdemont and his fellow ministers should be extradited to Spain lies not with Belgium's politicians but with its judges.
In the EU, where countries are broadly assumed to have similar political and judicial values, it is difficult - but not impossible - for one member state to decline to return a fugitive to another jurisdiction to face trial.
'Separatism by proxy'
So it may be that Mr Puigdemont's real goal in Brussels is to play for time, keeping his case in the international headlines as he exhausts the appeals process here.
In that time there is not much that NVA politicians can do in practical terms. But the Flemish political scientist Bart Maddens from the University of Leuven detects another motive in their support for Mr Puigdemont - a motive bound up in the deal which brought the NVA into Belgium's governing federal coalition.
"The thing about the NVA at the moment is that it's had to agree to an institutional standstill," he explains. "That is the basic compromise underlying the present Belgian government.
"The NVA as an anti-system party plays an important role in the government, on the condition that it stays silent about separatism and any institutional reforms of the state. So it has to keep its institutional demands in the deep freeze. Some commentators in Belgium have said that this activism of the NVA in Catalonia is a kind of separatism by proxy. What they cannot do here in Belgium for political reasons, they can do in Catalonia."
But the ambition of keeping the concept of separatism alive in general, rather than in their own country, is rather a vague one, with no obvious immediate political benefit - especially if Mr Puigdemont and his allies fail to win Catalonia's regional election on 21 December.
He could find himself in prison in Madrid shortly before or soon after the election.
Journalist Ivan De Vadder from Belgium's Dutch-language TV station VRT, a veteran political commentator, believes it is hard to see a winner in the current situation, though even last week the Flemish and Catalan nationalists saw possible advantages.
"There is no good solution for anybody in this," he said. "The only thing that could happen is if Spain released the ministers who are in prison now. That could change the game and make it easier for Puigdemont to go back and even stand trial.
"But nobody is winning and there is still looming for the Belgian government a possible crisis, because the NVA remains supportive of Puigdemont and his case. They're not backing off. And that leads to tension with the other parties in the Belgian government."
No-one can be sure how long Mr Puigdemont and his allies will remain in Brussels. It's certainly possible that they will all still be here when Catalonia votes again on 21 December. Mr Puigdemont might yet find himself fighting an election in exile at the same time that he's fighting extradition.