Eoin McCallig awarded 15m euro over birth injuries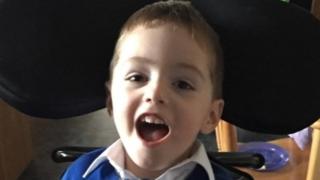 A four-year-old boy who suffered catastrophic injuries at birth has been awarded a 15m euro (£13m) settlement.
The Coombe Hospital in Dublin apologised to Eoin McCallig for his injuries and the devastating consequences for his family.
His father, Anthony, said the family could forgive a mistake, but not how the authorities had dealt with them.
He told Dublin's High Court, where the legal action was heard, that the culture needed to change.
Mr McCallig, from Dunkineely in County Donegal, said the Health and Safety Executive had spent 800m euro (£708m) over the last 10 years in fighting these cases and that money could be put to better use.
The judge agreed that there must be a better way of dealing with these cases than trials in the High Court, before making admissions just before the trial date and making offers on the morning of a hearing.
Mr McCallig said the settlement would never change what happened to Eoin, but it would give them some comfort as they knew that if they died, Eoin would be looked after.
Distress
The court heard the Coombe Hospital stopped monitoring Eoin's heart rate at 09:30 on the morning of his birth.
Eoin's parents claimed that if he had been monitored further, medical staff would have seen he was in distress.
He was born at around 11:30 and the court heard he had been deprived of oxygen in the 20 minutes just before he was born.
If he had been monitored and delivered early, he would not have suffered such injuries, the court heard.
The court was told Eoin was a very bright boy, who will be five years old on Friday.
He cannot walk or talk and can communicate only with his eyes and expressions.