Billionaire Russian lawmaker under investigation in France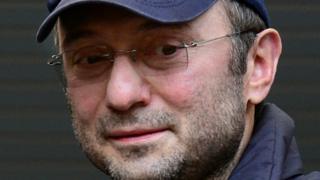 A billionaire Russian lawmaker is under formal investigation in France on suspicion of tax evasion.
Suleiman Kerimov, one of Russia's richest men, was arrested late on Monday night in Nice.
Russia summoned a French diplomat in Moscow to protest about his detention but he has since been released under strict conditions.
"We will apply all efforts, maximum of efforts, to defend his legal interests," a Kremlin spokesman said.
The spokesman argued that Mr Kerimov had diplomatic immunity, which puts officials from overseas above the law of the country in which they are working.
"It is especially important here that Suleiman Kerimov has a diplomatic passport which he used to enter France," the spokesman said.
Russian state news channel Rossiya 24 reported that Mr Kerimov denied any wrongdoing.
The reason for his detention has not been confirmed, but an official told AFP news agency Mr Kerimov was accused of hiding millions from tax authorities while buying numerous properties on the French Riviera.
He has now been released under strict conditions and must hand over his passport to the authorities. His bail has been set at €5m (£4.4m).
---
One of Russia's richest men
By BBC Monitoring
Mr Kerimov's family controls Russia's largest gold producer, Polyus, and he has an estimated net worth of $6.3bn (£4.7bn). Shares in the company fell after news of his arrest broke.
Born in Dagestan in 1966, he is a qualified economist who was elected to the Russian State Duma in 2000. He served as an MP for seven years, originally with the nationalist LDPR party, but later switched to the ruling United Russia party. In 2008 he became a member of the upper house of parliament.
In 2006 Mr Kerimov suffered severe burns when he crashed his Ferrari Enzo in Nice. To this day he wears skin-coloured gloves to hide the scars.
Until last year he owned Dagestani football club Anzhi Makhachkala, where he financed the purchase of star players such as Roberto Carlos and Samuel Eto'o.
In 2013 Kerimov was wanted in Belarus in connection with the activities of Russian fertilizer giant Uralkali, which he had a stake in. The Belarusian government later removed him from the wanted list.