World's only particle accelerator for art is back at the Louvre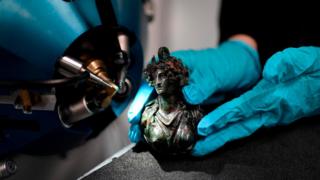 The world's only particle accelerator used regularly in the analysis of art has gone back into use at the Louvre museum in Paris.
The accelerator has been rebuilt to allow it to investigate paintings without risking damage to the artworks.
The upgrade cost €2.1m (£1.8m; $2.5m). The machine is 37m (88ft) long.
Paintings were rarely analysed with earlier versions of the accelerator because of fears that the particle beam might change the colours.
The first objects to be tested by the newly configured accelerator, known as Aglae, included Roman votive statues of the household gods, the Lares, AFP news agency reports.
They were bombarded with helium and hydrogen atoms, travelling at up to 30,000km/h (18,600mph). The radiation emitted was analysed to determine the chemical make-up.
The Centre for Research and Restoration of the Museum of France (C2RMF), which is independent of the Louvre, paid for the upgrade.