Keith Harrison case dismissed by Garda whistleblowers' inquiry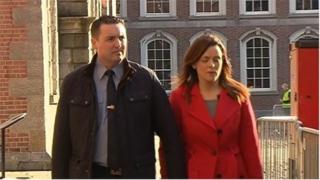 A public inquiry into the treatment of Garda (Irish police) whistleblowers has exonerated both the force and social services of maliciously interfering in Garda Keith Harrison's family life.
Garda Harrison had claimed the force wrongly reported him to social services over false domestic abuse allegations.
He drew comparisons with the case of Garda whistleblower Maurice McCabe and demanded to be included in the inquiry.
But the tribunal has comprehensively dismissed Garda Harrison's allegations.
'Astonishing'
It said the County Donegal officer's claims of malicious treatment were "completely unfounded", "entirely without validity" and had "simply collapsed" under scrutiny.
In fact, the tribunal praised officers' "diligent" response to domestic abuse allegations and said the integrity of social workers had been "incorrectly undermined by these widely-publicised allegations".
The inquiry was also scathingly critical of Garda Harrison's conduct in the lead up to his dispute with his employer and described the nature of some of his complaints as "astonishing".
The public inquiry, popularly known as the Disclosures Tribunal, is being chaired by Supreme Court judge Peter Charleton.
Garda Harrison's case centred on the force's response to accusations that he subjected his partner, Marisa Simms, to domestic abuse and threats.
Ms Simms, a mother of two, reported abuse to gardaí in 2013, but she later withdrew her statement, claiming officers had coerced her into making allegations against Garda Harrison.
However, because Ms Simms' children had witnessed the alleged abuse, gardaí in County Donegal made a referral to the child and family agency, Tusla.
Social workers subsequently visited Ms Simms' home to assess the children's welfare.
'Secret relationship'
When it emerged earlier this year that, in a completely separate case, Garda whistleblower Sgt Maurice McCabe had been falsely accused of child abuse, Garda Harrison saw comparisons with his own treatment.
In a public statement, he said he shared "the heartache" of the McCabe family and demanded that his own experience be included in the public inquiry.
The Donegal officer had also become a whistleblower in 2009, when he prosecuted a colleague for alleged drink-driving, despite opposition from senior officers.
Garda Harrison claimed he was bullied and harassed by colleagues over the case, suggesting it as a motive for reporting him to social services.
The same year, a brother of Ms Simms crashed into a Garda patrol vehicle during a high-speed car chase, killing a Donegal-based Garda officer.
The Disclosures Tribunal noted that Garda Harrison had tried to keep his relationship with Ms Simms secret, when he requested a transfer to County Donegal where the officer's death was being investigated.
The tribunal rejected all of allegations that the couple made against Gardaí and social services.
'Devotion to duty'
It said that imposing discipline was "not the same as bullying and harassment".
The tribunal added that a "positive picture has emerged" in terms of the functioning of the police force and social services.
It praised "committed public servants" and said the "impression given has been one of devotion to duty and determination to do the right thing" to protect children.
In its conclusions, the inquiry said: "It should be emphasised that any conclusion reached in relation to this matter has no impact on the tribunal's investigation into the issues concerning Sgt Maurice McCabe."