Potsdam Christmas market evacuated as device found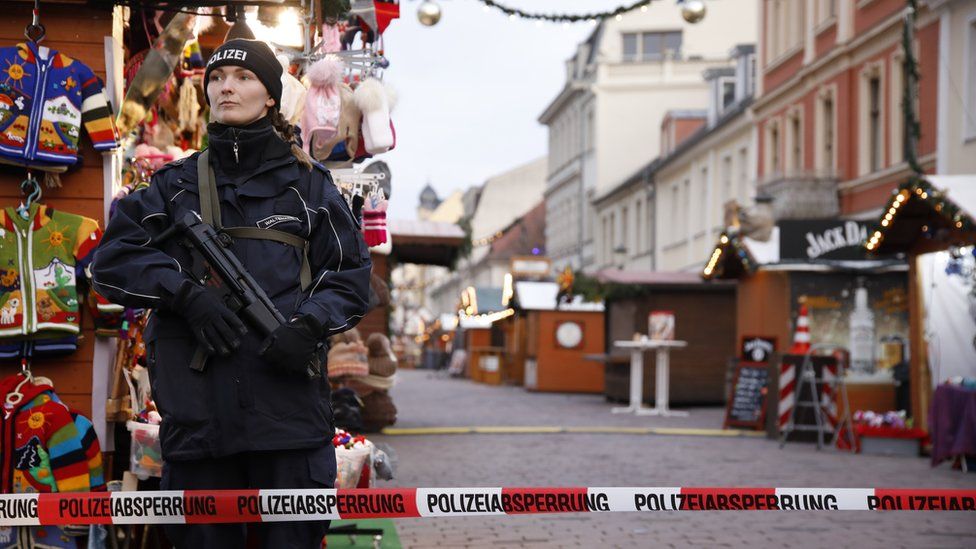 Police in the German city of Potsdam are investigating a device filled with nails found next to a Christmas market.
The device, that also held batteries and wires, was sent to a pharmacy in the city south-west of Berlin.
Police initially said there were explosives inside, but then clarified there was no detonator.
Germany is on a heightened terror alert, a year after 12 people died in an Islamist attack at a Berlin Christmas market.
The device was found near Brandenburgerstrasse in the centre of Potsdam, which has a number of other Christmas markets.
A police spokesman said an X-ray scan was conducted on the device, which found that it had nails inside. It was then made safe.
The Interior Minister for Brandenburg, Karl-Heinz Schröter, said police were searching the area in case more devices were sent.
"We just don't know at this point if this was a device that could have actually exploded, or a fake, or a test," he said.
More than 2,600 Christmas markets opened across Germany on Monday. They bring in an estimated £2bn (€2.3bn; $2.7bn) of business a year.
There is an increased police presence in city centres this year and car barriers have been put up around some Christmas markets.
Germany's interior ministry said this week that the risk of an attack on its territory or in Europe was "continuously high".
In last December's Berlin Christmas market attack, Anis Amri, a Tunisian asylum seeker, hijacked a lorry and killed its driver before ramming it into shoppers, killing another 11 people.