Migrants in Germany: Should they be paid to go home?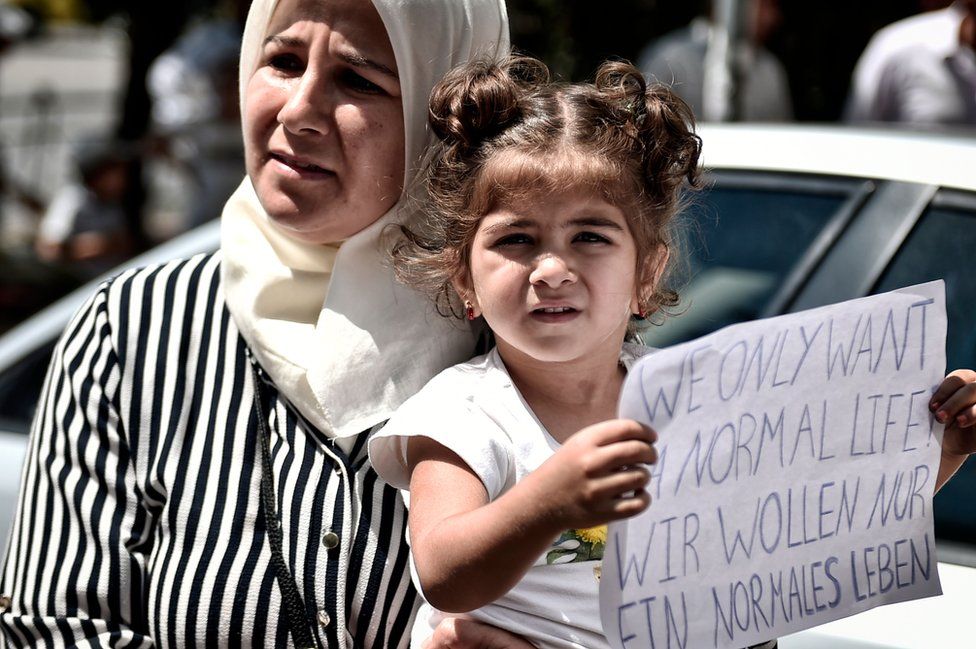 If you'd travelled across the world to pursue a better life, would you move back in return for money?
Germany is betting that the answer is yes.
The country has long offered migrants and asylum seekers financial incentives to leave its shores, and until 28 February 2018 it's prepared to pay out extra.
Individuals will get €1,000 and families up to €3,000 (£2,650; $3,540) to cover rent or resettlement costs back in their home countries - things like basic kitchen or bathroom facilities.
Critics say Angela Merkel's government is trying to bribe its way out of a tricky situation, but supporters say the scheme will help sad, exhausted migrants who just want to go home.
Germany is by no means first to this approach. So where else has done it - and is it morally wrong?
'Pressure is being ramped up'
According to Dr Jeff Crisp, a Fellow at the Chatham House think tank, so-called "voluntary return" programmes for asylum seekers have been around for at least 20 years, and everywhere from Australia to the UK and Canada has tried them.
"The pressure on people to return is definitely being ramped up, and return is being seen as the key to the whole migration situation in Europe at the moment," he told the BBC.
"Governments in Europe particularly much prefer these programmes because they're less messy. There's less likelihood that things will go wrong than when you're forcing people onto planes in handcuffs."
Figures from the International Organization for Migration (IOM), which runs many countries' reward schemes, show that it helped 98,403 people return to their countries of origin in 2016. Over half of them - 54,006 people - were leaving Germany.
Some 39,000 out of the 98,403 received cash (given to 61% of people) or benefits in kind, at a cost of $32.7m.
How does a government sell that kind of outlay to the voting public?
In Scandinavia, which has seen a migrant influx in the past decade, officials say it's cheaper to help asylum seekers leave than to house them in immigration centres.
And in spring 2016, nearby Norway made headlines for adding a 10,000 kroner "bonus" onto its existing rewards package for the first 500 asylum seekers to apply.
"We need to entice more [people] to voluntarily travel back by giving them a bit more money on their way out," Migration Minister Sylvi Listhaug declared.
But is that really an ethical approach?
Preying on the desperate?
While the IOM says it adopts "a humane and dignified approach" to help migrants get home, human rights groups have argued otherwise.
In Germany, pro-refugee group Pro Asyl accused the government of "trying to entice people to give up their rights in the basest manner".
Dr Crisp questions whether these schemes should be described as voluntary at all when participants may be destitute, unable to work legally in their host country.
"The IOM is very keen to push up the numbers. I think they get paid pretty much on a per capita basis. So for everyone they send back to their home country, they get money from donor states such as Germany," he says.
The rule about which countries are exempt from the scheme is also controversial.
Migrants from Syria, Yemen, and Libya are not eligible for assistance, as the IOM feels it can't guarantee their safe return from Germany. But observers say departees could also be at risk in Afghanistan, which the funding does cover, as conflict is ongoing and the authorities lack resources to help them.
How voluntary are these schemes?
Sabine Lehmann, a spokeswoman for IOM Germany, said there was a long-term plan in place for every person's reintegration in their home country, via IOM offices on the ground. She said all volunteers received "return counselling" before departing, and left on ordinary passenger flights.
"Not all of them are obliged to leave the country. Many of them are rejected asylum seekers - but it's not the majority," she said.
"It could be that you have been living in Germany for 10 years or for 30 years. Maybe your partner dies, you want to go back, you don't have the money - then you can participate in this programme."
She adds that people being held in detention centres are not eligible to apply for the funding - so nobody is bartering for their freedom.
Will it save Germany money?
While the number of new asylum applications in Germany fell by almost half to 90,389 in the first half of 2017, a humane solution is needed for the thousands whose requests have already been turned down.
Berlin clearly hopes its latest push will be good value compared with the cost of grounded flights and the security officers who oversee forced deportations. And then there's the saving in court time.
Almost twice as many asylum seekers are launching appeals in Germany year on year in 2017, as its deportation drive cranks up. Around one in two rulings makes it to court, and about a quarter of appeals succeed.
German public broadcaster NDR (cited by the news portal DW) puts the rough cost of these judgements at 19m euros from January to November 2017 - a full 7.8m more than in 2016.
For that money, the latest incentive scheme could afford to pay 19,000 people to leave voluntarily.
A note on terminology: The BBC uses the term migrant to refer to all people on the move who have yet to complete the legal process of claiming asylum. This group includes people fleeing war-torn countries such as Syria, who are likely to be granted refugee status, as well as people who are seeking jobs and better lives, who governments are likely to rule are economic migrants.