EU to sue Poland, Hungary and Czechs for refusing refugee quotas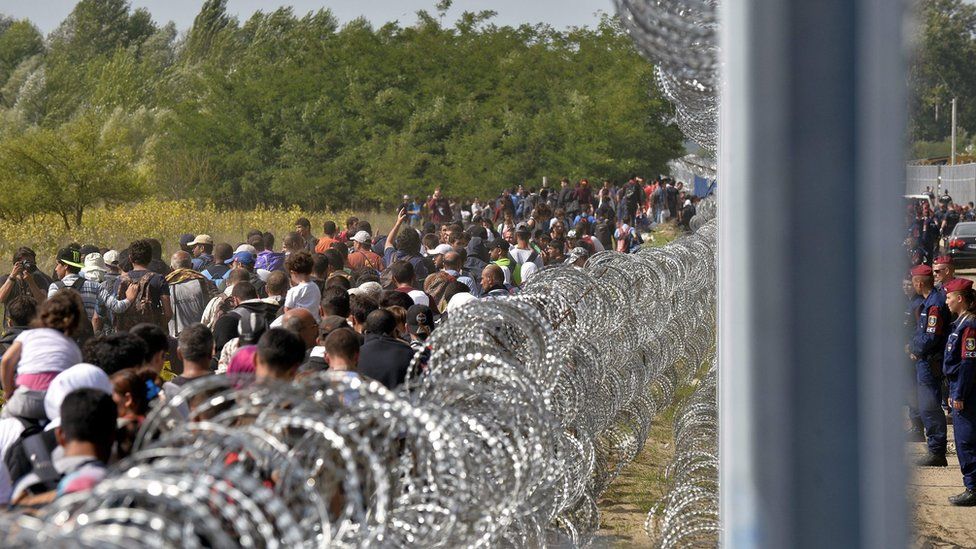 The European Commission is to sue Poland, Hungary and the Czech Republic at the European Court of Justice (ECJ) for refusing to take in asylum seekers.
The Luxembourg-based ECJ could impose heavy fines.
A relocation plan was launched by the EU in 2015 in response to a large influx of migrants and refugees.
The move was an attempt to relieve pressure on Greece and Italy where the vast majority of migrants were arriving.
However, the Czech Republic has accepted only 12 of the 2,000 asylum-seekers it had been designated, while Hungary and Poland have received none.
The commission launched infringement procedures against the three states in June and warned them last month that further action was likely.
"The replies received were again found not satisfactory and three countries have given no indication that they will contribute to the implementation of the relocation decision," a statement said.
"This is why, the commission has decided to move to the next stage of the infringement procedure and refer the three member states to the court of justice of the EU."
Following Thursday's announcement, Czech Prime Minister Andrej Babis told the BBC his country would continue to oppose the relocation scheme.
He said the quota system had fuelled anti-migrant sentiment and played into the hands of the far right.
Poland's Deputy Foreign Minister Konrad Szymanski also said his government was "ready to defend its position in the court".
Hungary's right-wing government is looking to pass a higher education law that could close the Central European University, founded by financier and philanthropist George Soros.
Mr Soros has a strained relationship with Hungarian Prime Minister Viktor Orban.
The commission said Hungary's education law "disproportionally restricts EU and non-EU universities in their operations and needs to be brought back in line with EU law".
Hungary also caused controversy in June when it passed legislation forcing non-governmental organisations to declare themselves "foreign-funded".