Poland: Private TV station fined for coverage of protests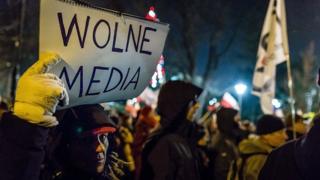 Poland's National Broadcasting Council has fined a private television channel, TVN, for its coverage of opposition demonstrations in Warsaw last year.
The council said the station's prominent coverage had "promoted illegal activities" and "encouraged behaviour that threatened security".
Opponents of Poland's right-wing government have said the council's decision amounted to censorship.
It fined the broadcaster 1.48m zloty (£311,000; $414,000).
The demonstrations in December 2016 were sparked by the plans of the governing party Law and Justice to limit the number of journalists and television stations allowed to cover parliamentary proceedings. The proposals were largely dropped.
The watchdog ruled that the coverage by TVN's 24-hour news channel broke the law because it showed opposition politicians encouraging people to join the protests.
TVN is a US-owned broadcaster and is often critical of the right-wing government.
The channel said in a statement that it disagreed with the decision and would appeal against the regulator's decision.
A prominent mainstream political journalist in Poland told the BBC's Adam Easton, in Warsaw, that the ruling was "worrying".
The council's five board members were either appointed by the Law and Justice majority in parliament or by the president, himself a former member of Law and Justice.
Last week Prime Minister Beata Szydlo resigned, hours after surviving an opposition no-confidence motion.
Ms Szydlo has been replaced by her Finance Minister Mateusz Morawiecki.
Do Europe's 'illiberal democrats' challenge the EU's values?