Izzy Dezu dies during Under-16s football match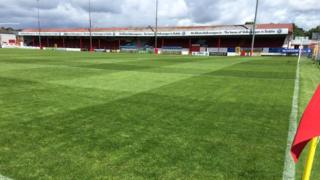 A talented young footballer has collapsed and died while playing for Shelbourne Football Club in the Dublin and District Schoolboys League.
Izzy Dezu, who was 16, suddenly became ill during the match at the Athletic Union League Complex on Tuesday night.
He was given first aid and was taken to hospital where his death was confirmed.
The Football Association of Ireland (FAI) said he was" widely regarded as one of the most promising players at this age level in the country".
"Everyone involved in Irish football is deeply saddened by the loss of Izzy Dezu at such a young age, particularly in these tragic circumstances," said FAI's chief executive, John Delaney.
'Heartbroken'
The FAI is to pay a "special tribute to Izzy" during the Republic of Ireland's next home international fixture at the Aviva Stadium.
In a statement on its Facebook page, Shelbourne FC said its members were "heartbroken" by his death.
"The thoughts of everyone at Shelbourne FC are with his family, friends, teammates and coaches who have been devastated by his tragic loss," the club said.
Shelbourne had been playing against its Dublin rivals, St Kevin's Boys Club, when the teenager collapsed during the Under-16 Premier League play-off match.
A spokesperson for St Kevin's said all those who witnessed the incident were "extremely shocked" and sent their "deepest sympathy to Izzy's family and friends as well as Shelbourne FC".
They added it was "tragically similar" to the sudden death of Belvedere player Shetemi (Shay) Ayetigbo two years ago, who died on St Kevin's pitch during an Under-16 play-off in 2015.
"Izzy collapsed early in the second half and the reaction of players closest to him indicated that the situation was extremely serious," St Kevin's club statement said.
"He was immediately attended to by staff from both teams and CPR was administered by an off-duty Dublin Fire Brigade member and a defibrillator was used prior to the arrival of three units of the emergency services and, despite their efforts and his subsequent removal to hospital, his passing was confirmed a short time later."