EU 'has east-west split' on migrant quotas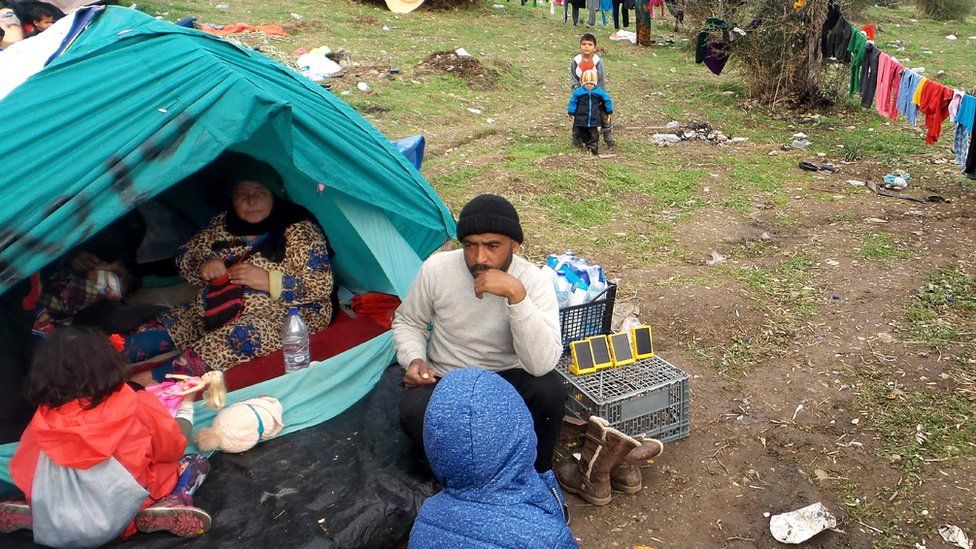 EU leaders are bitterly divided over a quota scheme for housing migrants, as they begin a summit in Brussels.
Summit chairman Donald Tusk called mandatory EU-wide quotas "ineffective". He spoke of a split "between east and west" over asylum policy.
"These divisions are compounded by emotions which make it hard to find common language," he said.
German Chancellor Angela Merkel urged "solidarity" to help Italy and Greece, overburdened with asylum claims.
Poland and three neighbours in Central Europe reject the EU's asylum policy.
Mr Tusk - a former Polish prime minister - appeared to back the Visegrad Group. They say they are ill-equipped to integrate people from non-Christian cultures who would rather live in richer EU countries anyway.
Ms Merkel said the current asylum system was not working, and "that is why we need internal solidarity".
She drew much criticism in Germany for welcoming more than a million asylum seekers during Europe's 2015-2016 migrant crisis.
Read more on the migrant crisis:
The European Commission devised a mandatory scheme to relocate 160,000 refugees - Syrians and Eritreans - from Italy and Greece to other EU countries. But so far only about 32,000 refugees have been transferred.
The Commission's migration chief, Dimitris Avramopoulos, called Mr Tusk's position "unacceptable" and "anti-European".
The EU is still struggling with the aftermath of the 2015 migrant crisis, when many refugees from the wars in Syria, Iraq and Afghanistan sought asylum in Europe.
Boatloads of migrants crossing the Mediterranean have stretched resources in Italy and Greece to their limits.
The influx subsided this year, however, as the EU tightened co-operation with authorities in Libya and Turkey, the key transit countries.
The EU is struggling to tackle people-smugglers in Libya who are brutally exploiting migrants.
The rate at which EU countries send economic migrants back to Africa and Asia is still well below agreed targets.
EU foreign policy chief Federica Mogherini said that in the past year 16,000 migrants had gone home from Libya, with EU and UN assistance. The aim in the next two months, she said, is to send another 15,000 migrants home from Libya.
Italy's Prime Minister Paolo Gentiloni will discuss the migration challenge with those leaders most critical of quotas. Then the 28 member states will try to find common ground over dinner.
Italy and Germany are among the countries that want mandatory quotas, so that migrants can be relocated at times when there is a surge of migration into the EU.
A note on terminology: The BBC uses the term migrant to refer to all people on the move who have yet to complete the legal process of claiming asylum. This group includes people fleeing war-torn countries such as Syria, who are likely to be granted refugee status, as well as people who are seeking jobs and better lives, who governments are likely to rule are economic migrants.