Irish PM blames Brexiteers for Irish border problems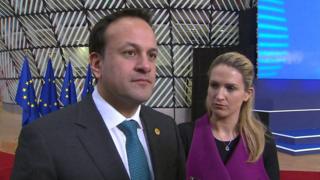 The Irish prime minister has said people who campaigned for Brexit should acknowledge that they have created a "problem" on the island of Ireland.
Leo Varadkar said Brexit threatened to disrupt free trade, freedom of movement and the peace process and he was among those trying to resolve those issues.
He was speaking to reporters at an EU summit where states may decide to move Brexit talks on to phase two - trade.
Last month, he demanded a guarantee on the Irish border before talks moved on.
That guarantee came in the form of a written agreement between the UK and EU last week, which stated that the UK remains committed to avoiding a hard border.
As he arrived in Brussels for the EU summit, BBC News NI asked the taoiseach (Irish prime minister) to respond to unionist concerns that his government was exploiting Brexit to pursue an all-Ireland agenda.
"My message to all of the people in Northern Ireland, - whether they're from a nationalist political point of view or a unionist political point of view - is [that] what we want to continue on the island of Ireland is exactly what we've had for the last 20 years, which is peace; freedom of movement; free trade between Northern Ireland and Ireland, and indeed between Ireland and Britain," Mr Varadkar replied.
"What's disrupting that is Brexit and I'd hope that some of the people who perhaps supported Brexit and campaigned for that would realise, or at least acknowledge, that they're the ones who created this problem and I'm one of the people who is trying to resolve it."
The taoiseach said he was "trying to retain what we've had now for 20 years - peace on our island for most of the past 20 years, power-sharing, and for all of those 20 years, free movement of people, goods, services and trade between Britain and Ireland and in Ireland".
'Backstop scenario'
Irish broadcaster, RTÉ, asked him for his interpretation of the UK's agreement to "maintain full alignment" with the rules of the EU's internal market and customs union in the absence of an overall Brexit deal.
"We were very happy with what was agreed last week," Mr Varadkar said.
"In terms of maintaining full alignment, our view is that's very strong language. Maintain means, 'keep as it is' of course. Full means 'full', not 'partial', and alignment means 'keep in line'.
"In terms of European law, the whole concept of alignment exists in the accession treaties, so when a country wants to join the European Union it's required to align its rules and regulations with the European Union before it joins.
"What we're saying here is that in this backstop scenario the United Kingdom, and Northern Ireland in particular, would maintain full alignment with the rules and regulations of the internal market and the customs union as a backstop arrangement, and that gives us a very strong assurance that there won't be a hard border on the island of Ireland.
"But we're not complacent either. This is politics, we're going to need to stay very engaged in the months and years ahead, and very vigilant too."
'Stop politicking'
However, the taoiseach was criticised by the deputy leader of the Democratic Unionist Party (DUP), Nigel Dodds, who accused him of continuing to "make incomplete commentary" about the deal reached by the UK and EU.
"There will be no so-called 'special status' forcing Northern Ireland to stay inside the EU," Mr Dodds said.
"The agreement last week makes it clear that the UK remains committed to preserving the integrity of its internal market and Northern Ireland's place within it, as it leaves the EU's internal market and customs union."
The DUP MP added: "He should stop politicking ahead of his general election and start respecting the unionists of Northern Ireland."