French bus crash: Death toll rises to five as police look for cause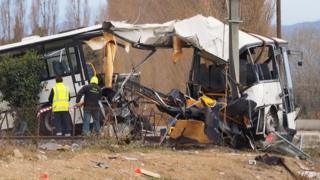 Investigators are working to establish how a train and a school bus collided near Perpignan in southern France, leaving at least five children dead.
At least 18 people were also injured in the crash on a level crossing between Millas and Saint-Féliu-d'Amont.
The bus was carrying pupils from a local school when it was hit by a train travelling at about 80km/h (50mph).
The site has been sealed off as police examine whether a technical or human error was to blame.
Four children died at the scene on Thursday. Local authorities said another child had succumbed to injuries on Friday morning.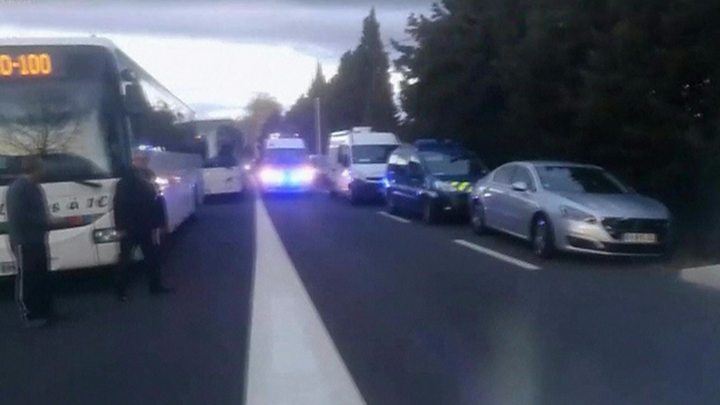 Investigators have questioned the driver of the train but are still waiting to interview the 48-year-old bus driver, who was injured in the crash.
The bus, which had left the Christian Bourquin College in Millas, was on the crossing when it was hit by the train, which was travelling from Perpignan. Visibility was described as good.
Train operator SNCF said witnesses had reported seeing the barriers at the level crossing down at the time of the collision, although that was not confirmed.
A witness who was on the train told local news website l'Indépendant that "it was a very violent crash - it seemed as if the train would derail".
Some 30 people were on the regional train at the time.
Carole Delga, president of the Occitanie regional council, said the level crossing had been upgraded recently and appeared to have been in very good condition. "The level crossing was very visible," she said.
SNCF said it had an automatic barrier with standard signals and was not considered particularly dangerous.
But the grandmother of an injured 11-year-old girl who had been on the bus told a very different story. The girl said the barrier had not come down but remained raised.
"The red lights that normally flash did not come on," she said. "The [bus] driver went through and stopped half way, and that's where the train crashed into it."
SNCF has modernised level crossings across France in recent years, following numerous accidents, the BBC's Chris Bockman reports from Toulouse.
Transport Minister Elisabeth Borne called the crash a "terrible accident" and Education Minister Jean-Michel Blanquer was due to visit a counselling centre set up at the Christian Bourquin College on Friday.
A statement from the education minister's office said he would visit "to support students, families, teachers and the entire educational community".
In a tweet, French President Emmanuel Macron offered his condolences: "All my thoughts for the victims of this terrible accident involving a school bus, as well as their families. The state is fully mobilised to help them."