Hawe inquest: Officer recalls finding murdered children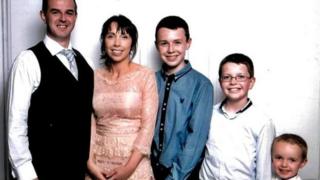 A police officer broke down in court as she described harrowing scenes inside a house where a man murdered his wife and three children before killing himself.
Alan Hawe carried out the murders at his family home near Ballyjamesduff in County Cavan in August 2016.
An inquest into their deaths was told that bloodstained knives and a small hatchet were found in the house.
The body of Clodagh Hawe, 39, was found downstairs while the couple's sons aged six, 11 and 13 were found upstairs.
The Garda (Irish police) witness became emotional as she told a County Cavan coroner's court of the scenes she encountered after officers were called to the property.
The two older boys, 13-year-old Liam and 11-year-old Niall, were found in their bedroom with their duvets on them, with injuries to their necks and throats.
The youngest boy, six-year-old Ryan, was found in his bed, with his duvet on him and injuries to his neck.
A state pathologist suggested the boys had been stabbed in their Adam's apples to prevent them from screaming.
"I would find it very difficult to believe it was a coincidence that each of the boys' injuries were at their Adam's apples rendering all three of them unable to make a sound," said deputy state pathologist Michael Curtis.
A knife was found on the pillow above Ryan's head and there was blood on the bedclothes and walls in both rooms.
Handwritten note
Mrs Hawe's mother, Mary Coll, also gave evidence to the inquest on Monday.
The court heard there was no indication of anything out of the ordinary on the day before the murders.
Mrs Coll told the inquest her daughter was supposed to have left the two younger children off to be looked after for the day but did not arrive.
She said she had been unable to contact either her daughter or son-in-law and so travelled to their house in Barcony from her own home in Virginia.
She was about to put her key in the back door when she saw a note taped to the inner door in what she recognised as Alan Hawe's handwriting.
It said: "Please don't come in. Please call the gardaí."
Mrs Coll said she went to a neighbour's house and told them she thought Mr Hawe had done something terrible.
Sealed envelope
The court heard Mrs Hawe's body was found on a sofa downstairs. She was lying on her stomach, with head injuries, and there was blood on the ground.
A small hatchet and knife were on the ground beside the sofa.
In the main bedroom, jewellery boxes were stacked neatly on the bed.
Documents, a letter and a sealed envelope were found in the kitchen.
Relatives comforted each other as they listened to the evidence.
The inquest has been adjourned until 10:00 on Tuesday.