Hawe Inquest: Family were 'unlawfully killed'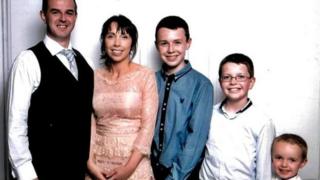 A husband killed his wife and three children in a way which rendered them unable to cry out for help, the victims' family have said.
Alan Hawe killed his wife, Clodagh, and their sons aged six, 11 and 13 at their home in County Cavan in August 2016.
Her family said Alan Hawe was concerned about an imminent fall from grace and the breakdown of his marriage.
A jury earlier returned four verdicts of unlawful killing and a verdict of suicide in the case of Alan Hawe.
Police found Clodagh dead downstairs in the house near Ballyjamesduff and her children Liam, Niall and Ryan were found upstairs.
It was clear from the evidence the victims were killed in a sequence that ensured the eldest and most likely to provide effective resistance were killed first, said a solicitor speaking on behalf of Clodagh Hawe's family.
They were executed in a manner which rendered them unable to cry out for help, added Liam Keane, speaking on behalf of Clodagh's mother Mary Coll and sister, Jacqueline Connolly.
"The inquest does not address why Alan Hawe committed this savagery but his counsellor said that he was concerned about his position as 'a pillar of the community' and we are aware that he was concerned at his imminent fall from that position and the breakdown of his marriage.
"While a psychiatrist has attempted a retrospective diagnosis based on notes and records, his GP who knew him for five years said he never displayed any signs of depression."
The family went on to thank all involved for their help and support and to ask for privacy.
The parents of Alan Hawe have also released a statement. Stephen and Olive Hawe said they have lost three beautiful grandchildren, a beloved daughter-in-law and their son and have been struggling to understand what happened.
"We have had some light shed upon that darkness with the insight gained from thorough examination of the report of Prof Harry Kennedy and his opinion that Alan suffered from severe depressive illness," they said.
"It does not make the pain and loss any easier for us."
They thanked the coroner, the Gardaí (Irish police), paramedics and those who contacted them with messages of support.
'Major depressive illness'
Earlier, the inquest heard that Alan Hawe saw a psychotherapist in the months before the killings.
Psychotherapist David McConnell told the inquest he had seen Hawe 10 times between March and June 2016.
At the last session, he said Hawe had said to him "people think of me as a pillar of the community".
He said Hawe paused, then continued - "if only they knew" and wept as he said this.
Mr McConnell said he had asked Alan what he meant when he said "if only they knew".
He said they discussed matters raised previously in therapy that did not require the confidentiality contract to be broken.
A psychiatrist told the inquest Alan Hawe had exhibited symptoms of "an insidiously worsening major depressive illness".
Prof Harry Kennedy was asked by the coroner to carry out a "psychiatric post-mortem", reviewing material available to the coroner.
Having done so, he said it was likely Alan Hawe had progressed from a long-standing depressive illness to a severe depressive episode with psychotic symptoms.
The family GP, Dr Paula McKevitt, said he had been to her surgery on the same day he saw the counsellor for the last time.
He complained about feeling run down, not having slept well for a few nights and said he was stressed about a conflict at work.
She said he was looking forward to getting away on holiday with the family and never came to her to talk about depression or depressive symptoms, but rather physical complaints that she could see and treat.
She was not aware that he was seeing a counsellor and he never mentioned it, added Dr McKevitt.
On Monday, a police officer broke down in court as she described harrowing scenes inside the house.
The body of Clodagh Hawe was found downstairs while the couple's sons were found upstairs.
The two older boys were found in their bedroom with their duvets on them, with injuries to their necks and throats.
Six-year-old Ryan was also found in his bed, with his duvet on him and injuries to his neck.