Ukraine accuses government interpreter of spying for Russia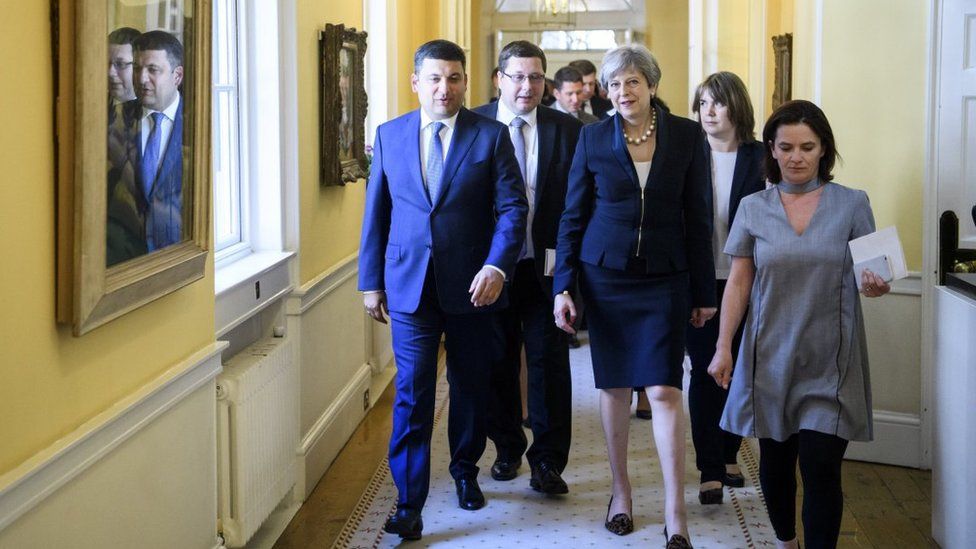 Ukraine's main security agency has arrested a senior government translator and accused him of being a Russian spy.
Stanislav Yezhov, who accompanied the country's prime minister on numerous trips, was detained in Kiev on Wednesday.
The Security Service of Ukraine (SBU) said Mr Yezhov had gathered information about government activities.
In July, he was part of a delegation that visited UK Prime Minister Theresa May in Downing Street.
They said Mr Yezhov, who is facing charges of treason, used "special equipment" to gather information which he then passed on to his Russian handlers.
He said Mr Yezhov was "an official in the government's secretariat who was working in the interests of the enemy state [Russia] for a long time".
He worked in the cabinet of ministers where he would have had access to sensitive government information. Prior to this, he served as a translator for Ukraine's former president Viktor Yanukovych.
Mr Yezhov had worked as a senior interpreter for Ukraine's government for while. Here he is interpreting in a meeting with then US VP Biden in 2016. pic.twitter.com/C9LhSPXIbU

— Jonah Fisher (@JonahFisherBBC) December 21, 2017
The SBU did not directly refer to Mr Yezhov but he was named by other senior officials.
Anton Gerashchenko, an adviser to the interior minister, said Mr Yezhov had "worked for the Russian special services for at least two years."
"It is known that he was recruited by the Russian special services during his work at the Ukrainian Embassy in Washington several years ago," he said.
A photograph taken in early July shows Mr Yezhov standing in between the UK and Ukrainian prime ministers as they walked down a corridor in Downing Street.
Another image seen by the BBC shows him leaving through the front door of the prime minister's residence.
Last year, Mr Yezhov visited the White House where he translated for Mr Groysman during talks with former US Vice-President Joe Biden.
Tensions between Ukraine and Russia have escalated in recent years.
In 2014, Mr Yanukovych - who was pro-Moscow - was driven from power by violent protests in Kiev. Russian-backed forces then seized control of the Crimean peninsula, which is officially part of Ukraine.
The continued presence of the Russian fleet at the port of Sevastopol in Crimea has also been a focus of tension between the countries. In 2008, Ukraine demanded that Moscow not use the fleet that is based there during its conflict with Georgia.