Russian presidential vote: Navalny 'nominated to run' against Putin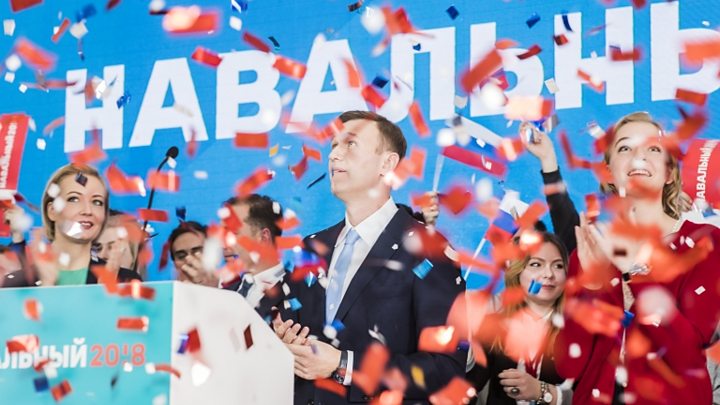 Russian opposition politician Alexei Navalny says he has gathered enough nominations to challenge Vladimir Putin in March's presidential election.
His supporters met in 20 cities across the country to secure the signatures.
Mr Navalny is still unlikely to run as election officials ruled him ineligible because of a corruption conviction which he says is politically motivated.
Mr Navalny spoke at the Moscow gathering, branding Mr Putin a "bad president".
He told his supporters in a marquee on a snowy riverbank that he would call a boycott of the election if he were not allowed to stand.
Mr Navalny is widely regarded as the only candidate with a chance of challenging the president, who is seeking a fourth term that would see him become the longest-serving Russian leader since Joseph Stalin.
Russian socialite and TV presenter Ksenia Sobchak is standing in the election but some - including Mr Navalny - regard her as a "Kremlin stooge".
Separately on Sunday, an opposition rally called by activist Ilya Yashin was held in the north-west of the capital.
Dozens attended the rally, which was streamed live on Facebook by Radio Liberty, chanting "Russia will be free" and "Putin is a thief".
Police declared it "illegal and provocative" and vowed to act in "strict accordance with the law". However, no-one was detained.
---
A blast of music and a burst of confetti
By Sarah Rainsford, BBC News, Moscow
This meeting in a giant tent on a snowy Moscow riverbank has secured Alexei Navalny well over the 500 signatures he needs to be nominated as candidate.
His supporters queued from early morning, cheering and chanting Mr Navalny's name as the finally tally was announced.
The anti-corruption campaigner then appeared on stage with his wife and children to a blast of music, giving it all a touch of the American campaign rally. There was even a burst of red, white and blue confetti.
On stage, Alexei Navalny told the crowd that Vladimir Putin does not have the mass support he claims. He insists on the right to run against him, to prove that.
His strategy is to try to force the authorities to register him. So if his candidacy is now blocked, despite today's nomination meeting, he's vowed to go on fighting - calling for strikes, an election boycott and street protests.
---
Mr Navalny, 41, needed 500 nominations to secure his nomination.
He later tweeted that he had secured the signatures, saying: "I have become an official candidate nominated by activist groups of voters. Many thanks to those who have taken part in this campaign in all corners of our country. You are the best."
He will hope securing the signatures will pressure the election commission into allowing him to run.
The commission's head, Ella Pamfilova, said earlier in the month that because of Mr Navalny's conviction he would be unable to stand and suggested he tried running again in 2028.
However, more recently she has said that the commission will examine the candidacy of every presidential hopeful who follows the necessary procedure.
Mr Navalny said Mr Putin had during his 18 years in power taken "from poor people oil, gas and metal worth trillions of dollars, sold it abroad, rewarded those people by turning them from poor to destitute".
"It is you, Vladimir Putin, who's turned this country into a source of personal enrichment for yourself, your family and your friends. That's why you should no longer be president. You are a bad president."
Mr Putin, who refuses to mention Mr Navalny by name, still retains a massive approval rating and is almost certain to ease to victory in the election.
Mr Putin has accused the opposition of hoping for a "coup" but he insisted that would not be allowed to happen.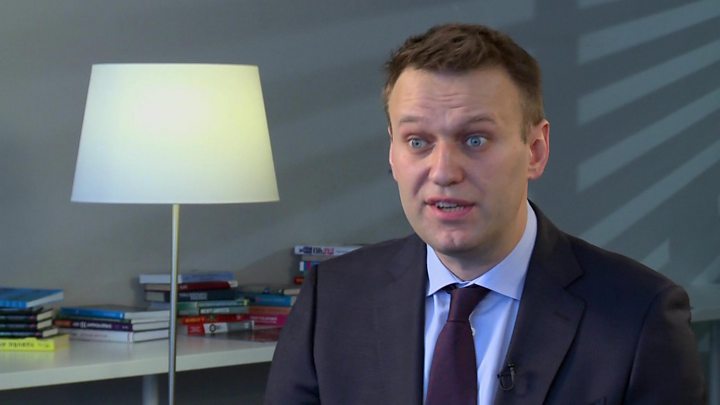 Mr Navalny led mass street protests against President Putin in the winter of 2011-12 and has been arrested three times this year alone for organising unauthorised anti-Putin protests.
The opposition politician insists he would beat Mr Putin in a fair fight.
In an interview with Associated Press last week, he said he would win "if I am allowed to run and if I'm allowed to use major media".
He said: "Putin has nothing to say. All he can promise is what he used to promise before, and you can check that these promises did not come true and cannot come true."