Irish priest wins €500,000 in EuroMillions quick pick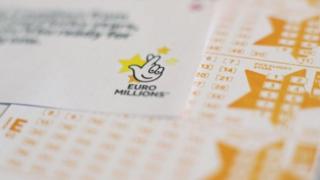 A Florida-based Irish priest, home for Christmas, has won €500,000 (£444,000) in the EuroMillions draw.
The retired priest, who is originally from County Mayo, claimed his prize on Friday.
The quick pick was bought in Donnybrook Fair in Malahide in Dublin on 22 December.
The priest, who wished to maintain his anonymity, joked that God must be listening to his prayers as this is not his first lottery win.
'This is a huge amount of money'
He won £15,000 Irish pounds on the old Irish sweepstakes (which was replaced by the national lottery 30 years ago) and he won $3,000 and $5,000 over the years in lotteries in the US.
The priest said he would share his winnings with those in need.
In a statement released via the National Lottery in Ireland, the cleric said: "I am a big believer that what goes around comes around.
"This is a huge amount of money and I look forward to giving some of it back."
It has been a busy few days for the Irish National Lottery as the search is underway for the owner of Friday night's EuroMillions jackpot.
The winning ticket - which is worth €38.9 million - was sold in Ireland and had the numbers 04, 08, 22, 23 and 48, with the lucky stars 01 and 12.
A spokesperson for the National Lottery has urged all players to check their ticket and keep it safe.