Dundalk stabbing suspect may have had 'two knives'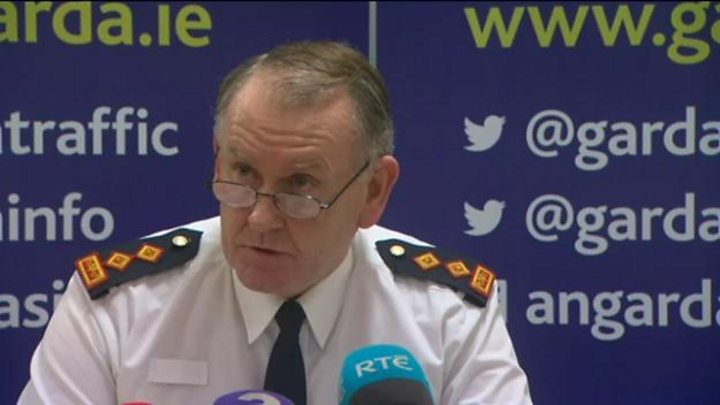 A teenager arrested after one man was murdered and two others were injured in the Republic of Ireland may have had least two knives, police have said.
A man from Japan died after he was stabbed in Dundalk, County Louth. A second man was stabbed nearby and a third victim was hit with a fence pole.
A Garda (police) spokesman said the attacks seemed "random and unprovoked" and no motive has yet been established.
When asked if it was terror-related, he said that was "a line of inquiry".
The 18-year-old man who has been arrested on suspicion of murder is from Egypt, a garda press conference was told.
The first attack happened at Avenue Road, Dundalk, shortly before 09:00 local time on Wednesday.
The 24-year-old Japanese man was on his way to work when he was stabbed to death in the street.
Shortly over half and hour later, a man was stabbed at Coes Road in Dundalk and a few minutes after that, the third man was hit with the pole at Seatown Place.
Both men injured in the later attacks are Irish and their injuries are not thought to be life threatening.
Addressing the press conference, Ch Supt Christy Mangan said gardaí were trying to establish how the murder suspect "arrived in this jurisdiction" and would be speaking to Egyptian authorities regarding his movements.
The officer also confirmed that the 18-year-old had been in contact with gardaí from the Immigration Section on New Year's Day regarding a possible application for residency in the Republic of Ireland.
At that time, he added, there was no indication that the teenager was involved in any type of criminality.
Outlining the incidents on Wednesday morning, Ch Supt Mangan said that a call was received from ambulance control to Drogheda Garda station at about 09:00 local time reporting that a man had been found with a stab wound at Avenue Road.
Gardaí arrived at the scene seven minutes later and found the stabbed man in a "unresponsive state".
At 09:32 local time, another call was received about a second incident at Coes Road in Dundalk, also reporting that a man had been stabbed.
At about 09.40 local time, Dundalk garda station received a 999 call telling them a man had been hit with a pole at Seatown Place.
Mr Mangan said that minutes later, an officer observed a person carrying a fencing post and acting in a suspicious manner.
A man was arrested at Inner Relief Road at 09:45 local time.
Mr Mangan told the press conference that detectives were satisfied at present that the suspect had acted alone and there was a possibility that he had been "carrying at least two knives".
However, he said the investigation will try to establish why he was in Dundalk and who he was associating with.