Germany: Migrants 'may have fuelled violent crime rise'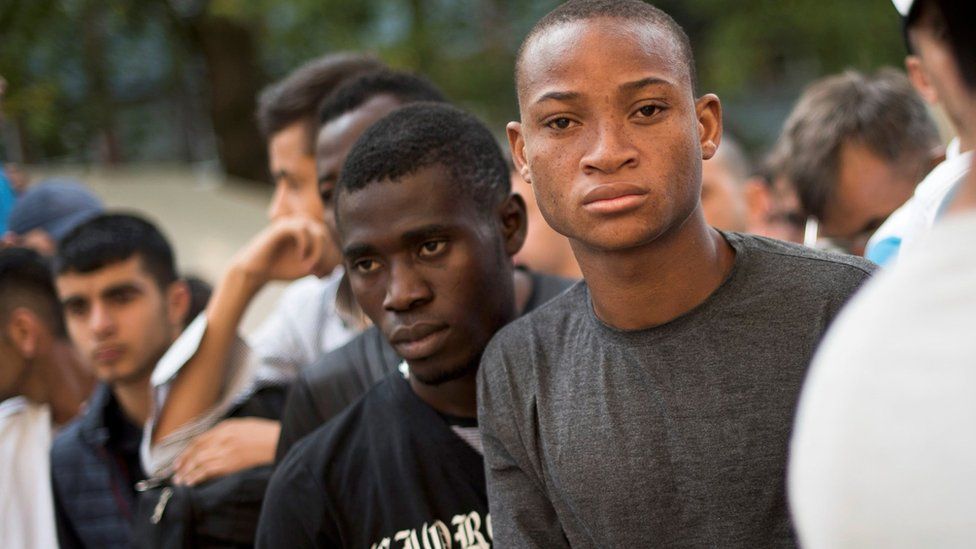 Migrants may be responsible for most of a recent rise in violent crime in Germany, research commissioned by the government suggests.
The study used data from Lower Saxony, a state where more than 90% of the rise was attributed to young male migrants.
The researchers say the findings are not surprising because many migrants who arrived in Germany in recent years are single males aged 14-30.
This group is most likely to commit crime, irrespective of nationality.
The researchers also said that migrants were twice as likely to be reported to police for alleged violent crimes as German nationals.
The report comes as Chancellor Angela Merkel's centre-right CDU/CSU prepares for coalition talks with the centre-left SPD.
Both groups were seen as being hurt by their apparently liberal migration policies in September's election.
What figures did the report use?
The report used statistics from Lower Saxony - regarded as an average state - where police saw an increase of 10.4% in reported violent crimes in 2015 and 2016.
Based on figures from the state's interior ministry, which keeps a separate record of alleged crimes by migrants, the report suggested that 92.1% of this increase was attributable to migrants.
Lower Saxony has seen a significant increase in arrivals of migrants in recent years.
However, the researchers also said that a third of all victims of violent crimes by migrants were other migrants.
What conclusions did the report reach?
The researchers said that the best chance of reducing violent crime among migrants was to offer more help with integration through language courses, sport and apprenticeships.
But it said that many male migrants fell into the 14-30 age category, the most likely to commit violent crime.
The lack of women and families among the migrants also meant that those young men were deprived of a "violence-preventing, civilising force", the study said.
It also said that migrants with little hope of being giving asylum in Germany were much more likely to commit violent crime than those from war zones like Syria whose asylum was guaranteed.
"Anyone who as a war refugee regards their chances of staying in Germany as good, will endeavour not to jeopardise those prospects by criminal offences," the authors of the study said, quoted by Die Welt newspaper.
Reuters news agency quoted criminology expert and study author Christian Pfeiffer as saying: "The situation is completely different for those who find out as soon as they arrive that they are totally undesirable here. No chance of working, of staying here."
In the Lower Saxony figures, 17% of crimes attributed to migrants were suspected of being committed by North Africans.
This group, which makes up less than 1% of the state's migrant population, has little chance of achieving legal status in Germany.
Why is this a hot topic in Germany?
Since 2015, more than one million migrants and refugees, many of whom had fled war and abuses in Afghanistan, Iraq and Syria, have entered Germany in response to Chancellor Merkel's open-door policy.
But the policy has led to tensions at home.
Her coalition partners the SPD also had their worst result since 1949.
The migration issue is expected to remain a major headache for both sides as they try to form a new coalition.