Merkel's coalition marathon keeps Germany waiting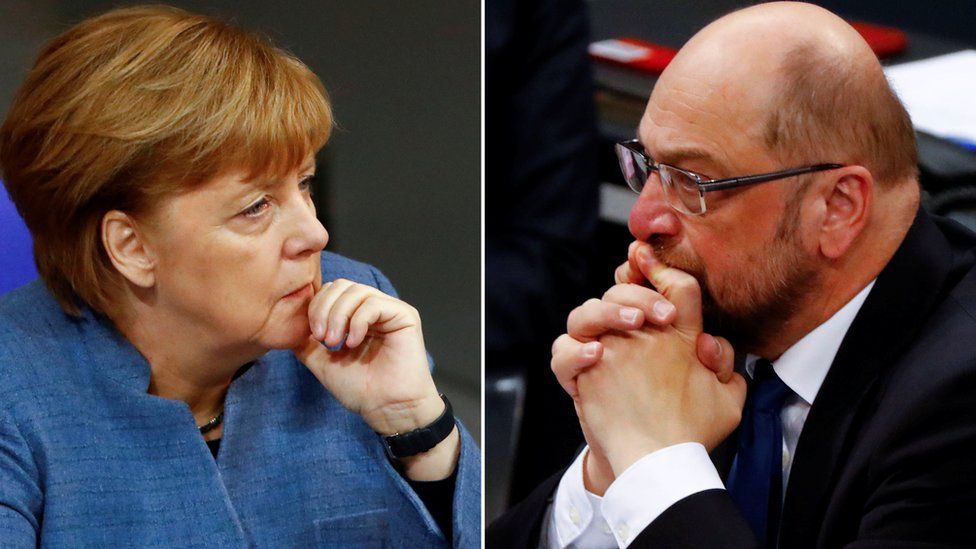 When will Germany finally form a government? You often hear that question these days.
This weekend Chancellor Angela Merkel is starting a new round of coalition talks, and it could be her last chance to lead a government.
More than three months have passed since the election - the longest period of coalition-building Germany has ever known.
Politically the country appears to have fallen asleep. But, under the surface, pressure is building, as voters get impatient and the rest of Europe hopes that the EU's most powerful country will get back into the driving seat.
Mrs Merkel's centre-right Christian Democrats (CDU) and the centre-left Social Democrats (SPD) both suffered their worst national results for more than 50 years.
But talk of crisis and Mrs Merkel's political demise - from some international media - has been overblown.
Germany does have a government, albeit a caretaker administration of the CDU, its Bavarian CSU ally and the SPD. And with unemployment at a record low, and tax revenue at a record high, domestically things are looking good. In the short term, Germany can wait.
But the European Union cannot. French President Emmanuel Macron has announced ambitious EU reforms, and needs Germany's help to push them through.
At home, precisely because of Germany's economic success, there are important long-term decisions to be made.
How much should be spent on infrastructure? Which taxes should now be reduced? And what to do with that record budget surplus?
They may be enviable problems. But they are also decisions that cannot be taken by a caretaker government.
With seven parties now in parliament, and historic losses for the two main blocs, forming a coalition was always going to be difficult.
But in November things suddenly got even more complicated, when the free-market liberal FDP unexpectedly stormed out of talks.
The only option for Mrs Merkel's CDU/CSU now is to turn to the SPD again.
Neither side wants this. This left-right "grand coalition" has ruled Germany for eight of the past 12 years.
During that time both blocs have slipped into the centre ground, catering well to Germany's centrist mainstream, but disappointing rank-and-file supporters on both sides - a natural consequence of years of pragmatic compromise.
Mrs Merkel is accused of betraying traditional conservative values, and losing voters to the far-right Alternative for Germany (AfD).
Left-wingers, meanwhile, say the SPD gave up its core socialist principles in order to hang on to power.
That's why, in a fit of bravado on election night in September, SPD leader Martin Schulz ruled out being in government with Angela Merkel again, and announced a period in opposition.
The cheering from SPD members was so jubilant that a casual observer could have thought the party had won, rather than suffered an historic loss.
But the breakdown of coalition talks in November has put moral pressure on Mr Schulz to think again, forcing him to perform an embarrassing U-turn.
In German coalition politics there are unspoken rules of democratic responsibility. Standing for election and then not trying to form a government can seem irresponsible and self-indulgent.
Many take the view that, by walking out of talks, the FDP broke those rules and is now paying the price with single-figure ratings. Now the pressure is on the SPD to come to the table.
So from Sunday, Mrs Merkel and Mr Schulz face a tricky balancing act: they have to reach a compromise, or at least look like they are trying, but at the same time reassure the grassroots that they are loyal to core values.
Migration is one of the thorniest topics, with the Bavarian CSU conservatives calling for benefit cuts for asylum seekers, a continued ban on family reunification and a cap on refugee numbers.
Taxation is equally controversial, with the SPD demanding higher taxes on the wealthy. And Martin Schulz's recent call for a "United States of Europe" clashes with conservative opposition to deep EU integration.
Both sides do agree on many foreign policy issues and the need for more investment in infrastructure.
But the main reason that a coalition deal might be reached is that the alternatives are so unappealing.
A minority government could be unstable and short-lived.
Fresh elections would lead to a long period of uncertainty and, according to present polls, could in the end yield a similar result, leaving Germany in exactly the same dilemma.
So when will Germany finally form a government? If talks go well, another grand coalition could be in place by Easter.
But if talks collapse, then expect to hear that question well into 2018.