Borussia Dortmund bus bombing suspect 'did not intend to kill'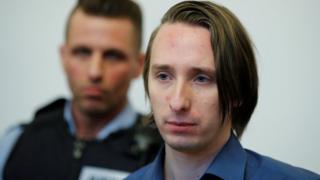 A man on trial over the bombing of the Borussia Dortmund football team bus last year has admitted he detonated explosives along its route.
Sergei W, 28, told a court in Dortmund that he had not intended to kill anyone. He is a German of Russian origin. His full name was not revealed.
The attack left a defender, Marc Bartra, with a fractured wrist and a police officer with hearing loss.
Prosecutors believe Sergei W gambled on the team's share price plunging.
He has been charged with 28 counts of attempted murder, which he denies. But he told the court: "I deeply regret my behaviour". He went on trial on 21 December.
The bus attack saw Borussia Dortmund's Champions League quarter-final with AS Monaco rescheduled to a day later, with Dortmund fans opening their doors to stranded away supporters.
Police initially treated the bombing as a suspected terror attack by jihadists.
Three bombs packed with metal pins were hidden in a hedge and set off as the bus passed.
Sergei W was arrested 10 days later in Rottenburg, southern Germany. Prosecutors say he had bought more than 26,000 put options on Borussia Dortmund shares, predicting that the share price would plunge after the attack.
It is reckoned that if the share price had fallen to one euro, Sergei W could have made a profit of more than 500,000 euros (£443,270; $600,000), German media report.
Borussia Dortmund is the only German football team whose shares are traded on the stock market.
The suspect was staying at the team's L'Arrivée hotel in Dortmund on the day of the attack and had moved to a room on the top floor, overlooking the street where it took place, prosecutors say.
He had placed his bet in the week before the attack.