Huge fire at scrap yard near Dublin Airport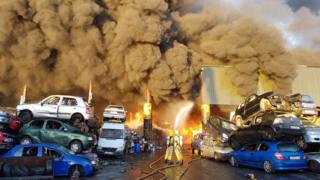 A huge fire that engulfed a recycling plant close to Dublin Airport in the Republic of Ireland is now "under control".
Dublin Fire Brigade said the blaze broke out in a shed at the facility in Sandyhills, St Margaret's, at about 09:00 GMT.
Large plumes of smoke can be seen rising over the plant but there are no reports of any injuries.
Dublin Airport said the smoke was not having an impact on airport operations.
The fire spread to vehicles outside the shed and fire officers said they had to adopt a "defensive stance" because of the danger of explosion from fuel tanks and oxyacetylene cutting equipment.
A drone was used to assess the situation before proceeding.
Eight firefighter units were deployed and a foam tender from the Dublin Airport Fire Brigade also gave assistance.
A number of people who were working at the plant were evacuated and no injuries were reported.
Dublin Fire Brigade has advised people living in the area to close their windows to prevent smoke blowing into their homes and also urged people - particularly anyone with breathing issues - to avoid the area.
The AA has warned motorists visibility may be affected.
Fingal County Council increased water pressure in the area to help firefighters.
John McNally from Finglas Fire Station said the blaze was small when firefighters arrived but quickly developed.
He said there are now small pockets of fire at the scene and it will take some time for it to be totally extinguished.