Greece bailout protesters storm ministry in strike dispute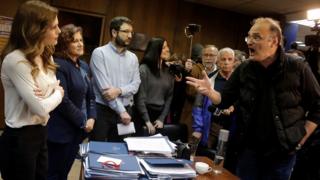 Angry trade unionists in Greece stormed the labour ministry and confronted the minister over plans to tighten the rules on strikes.
About 500 protesters from Communist-affiliated PAME burst into the ministry after breaking open metal shutters with crowbars, Reuters news agency reported.
They shouted "shame on you!" and "take it back!" at the left-wing minister, Effie Achtsioglou.
Curbs on strikes are among conditions set for Greece to exit its bailout.
The left-wing government of Prime Minister Alexis Tsipras has submitted a huge bill to parliament aimed at satisfying eurozone creditors, who have demanded tough austerity in exchange for continuing loans to Greece.
Among the proposed reforms is a rule requiring unions to get a yes vote from at least half of their members before triggering a strike. Currently the approval of one-third of members is required.
In the tense confrontation on Tuesday, the trade unionists called on the labour minister to withdraw the legislation.
But Ms Achtsioglou replied: "I will not take it back."
The protesters chanted "We won't yield to plutocracy!"
The Tsipras government wants to avoid another bailout programme after the current one - the third - expires on 20 August.
Austerity imposed by the EU and International Monetary Fund (IMF) creditors has caused enormous hardship for millions of Greeks, after spending on social security, education and healthcare was cut sharply.
Burdened with colossal state debts, Greece has been on an economic lifeline since 2010. It has received more than €250bn (£221bn; $298bn) in bailout payments.