Jackpot lottery ticket sold in County Donegal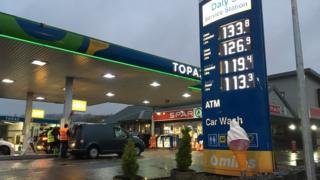 The owner of a shop in County Donegal has expressed his delight at having sold a winning Irish lottery jackpot ticket worth 4.4 million euros (£3.9m).
The golden ticket was sold in Daly's service station in Lifford.
The winning numbers were 1, 2, 7, 33, 34, 40 and the bonus number was 6.
The owner of the service station, Austin Daly, said there was a "real buzz about the place" following the news.
"We are absolutely delighted here, we have been selling lotto tickets for over 24 years, this is the second winner," he said.
"We had a phone call from the national lottery agent to inform us one of our customers had won 4.4 million euros.
"As yet no-one has come forward, but I wish the winner the best of luck."
The jackpot had been rolling over since 23 December and the winning ticket was a "quick pick" sale.