Seven migrants found dead off shore of Lanzarote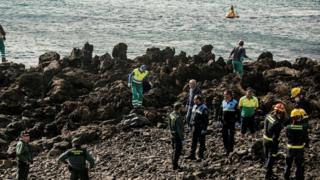 Seven African migrants have died trying to reach the Spanish island of Lanzarote, Canary Islands police say.
Five men were found dead in a drifting inflatable boat near a beach resort.
Police said it appeared that two other men who had been able to get out of the boat died while trying to swim to shore in the Costa Teguise area.
The migrants were of North African origin, Spanish authorities said, and 18 survivors who made it to shore are being treated for hypothermia.
The cause of death for the five in the boat could not be confirmed, but police said it is probable that they drowned or died from hypothermia.
A spokesman for the Guardia Civil police force told AFP that three of those who died "could be minors".
The boat arrived at the island at about 13:00 local time (12:00 GMT), he said.
Lanzarote is part of the Canary Islands archipelago and is about 130 kilometres (81 miles) from the Moroccan coast.
A note on terminology: The BBC uses the term migrant to refer to all people on the move who have yet to complete the legal process of claiming asylum. This group includes people fleeing war-torn countries such as Syria, who are likely to be granted refugee status, as well as people who are seeking jobs and better lives, who governments are likely to rule are economic migrants.