Top Kosovo Serb politician Oliver Ivanovic shot dead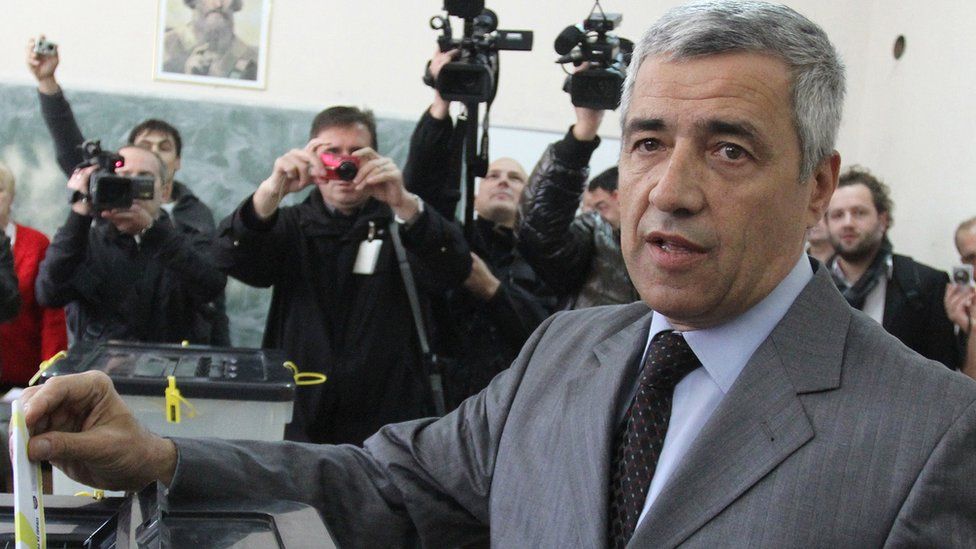 A prominent Kosovo Serb politician, Oliver Ivanovic, has been shot dead outside his party offices in the Serb-run north of Mitrovica.
Ivanovic, seen as a moderate Kosovo Serb leader, was shot four times in the chest and died later in hospital, his lawyer Nebojsa Vlajic said.
Serbian government negotiators walked out of EU-mediated talks with Kosovo Albanians in Brussels after the news.
Kosovo remains ethnically divided since unilaterally splitting from Serbia.
Mitrovica - in northern Kosovo - is split, with the south run by Kosovo Albanians.
Serbia has reacted furiously to the news of Ivanovic's violent murder, calling it an attack on the entire nation.
Serbian President Aleksandar Vucic said on Tuesday that his country should join the investigation into the killing, adding that Serbia was also prepared to carry out its own inquiry.
"For Serbia this is an act of terrorism and we will treat it accordingly," Mr Vucic said.
Kosovo's President Hashim Thaci said his government "strongly" condemned the killing, and promised to "bring the perpetrators to justice".
The US ambassador to Kosovo, Greg Delawie, also condemned Ivanovic's murder.
"I call on all Kosovo's justice institutions ... to investigate this incident swiftly and professionally, and bring the perpetrators to justice," Mr Delawie said in a statement.
The EU's special representative for Kosovo, Natalya Apostolova, called on the country's citizens to remain calm and urged authorities to "punish" those responsible.
French Diplomat Bernard Kouchner, who was head of the United Nations Mission in Kosovo (Unmik) in 1999, told the BBC he felt "sorrow" at the news and that Ivanovic's death would have an impact on efforts to heal divisions between Serbs and ethnic Albanians in Kosovo.
"For him the future of Kosovo was something peaceful," Mr Kouchner said, adding that the "process put in place for reconciliation between the Serbs and the Kosovar was working".
Ivanovic, 64, headed a Kosovo Serb party called Freedom, Democracy, Justice. He had played a leading role in negotiations with Nato and the EU.
He was facing a retrial for alleged war crimes against ethnic Albanians committed in 1999.
In January 2016, EU judges in Kosovo sentenced him to nine years, but the verdict was overturned by an appeals court a year later.
Ivanovic had denied all charges.
Kosovo and Serbia - key dates
1991: Start of the violent break-up of Yugoslavia
1996: Rebel Kosovo Liberation Army (KLA) steps up attacks on Serbian authorities in Kosovo - met with a Serbian crackdown
1999: Nato bombs Serbian targets - Yugoslav and Serbian forces respond with attacks against Kosovo Albanians but withdraw from Kosovo after a peace agreement
2008: Kosovo unilaterally declares independence
2012: Group of countries overseeing Kosovo since 2008 ends its supervisory role. Nato-led peacekeepers and EU rule-of-law monitors remain
2013: Kosovo and Serbia reach a landmark agreement on normalising relations that grants a high degree of autonomy to Serb-majority areas in the north
2017: Row as Serbia launches train service between Belgrade and northern Kosovo with the slogan "Kosovo is Serbian" painted on it in twenty languages
Ivanovic rose to prominence in Kosovo Serb politics during the territory's conflict in 1999, when Serb forces battled Kosovo Liberation Army (KLA) guerrillas and committed war crimes against ethnic Albanian civilians.
A Nato air campaign forced Serbia to pull its troops out, but an EU law and order team remains in Kosovo.