Brexit: Britons take EU rights bid to Dutch court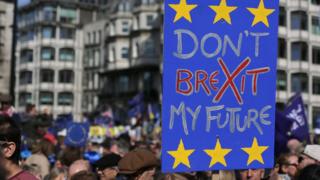 Five UK nationals are going to court in the Netherlands in a campaign to keep their EU citizenship after Brexit.
They want a Dutch judge to press the European Court of Justice (ECJ) to clarify their rights.
The ECJ, if it decides to make a ruling, could guarantee such rights as freedom of movement after the UK leaves the European Union.
An ECJ decision would affect all British nationals living in the European Union.
The European court could rule that all member states must guarantee the rights of Brits in the respective states where they reside - under European law.
About 42,500 British nationals live in the Netherlands.
The interim deal thrashed out between the UK and Brussels in December does outline some of the rights British citizens in Europe will keep after Brexit, such as the ability to live and work on the continent.
But some vital questions, like free movement, still swirl around.
'We've been forgotten'
Some of the group of five say they have been disheartened by the confusion and speculation about what their life will be like after Brexit.
"Just because the UK voted to leave, it shouldn't be able to force citizens to give up their rights," says Stephen Huyton, one of the Brits taking the court action on Wednesday.
The Netherlands does not currently allow foreigners to have dual nationality, in most cases.
What does EU citizenship mean?
EU citizenship is described in Article 20 of the Treaty on the Functioning of the European Union and includes the rights to:
Travel and live anywhere in the EU
Vote and stand as a candidate in European and local elections in another EU country
Get diplomatic protection and consular help from any other EU country in another part of the world
Read more:
Brexit: Could UK get 'associate EU citizenship'?
Would Brexit violate UK citizens' rights?
Mr Huyton, the European director of a US firm, has been living in the Netherlands for 24 years and has three children, with the youngest at university in the UK.
Like other Brits who have been living outside the UK for more than 15 years, he was not eligible to vote in the EU referendum.
"My children are confronted by choices I don't think are fair or reasonable," he says.
"In the Brexit breakup, it feels as though they're just making up the rules as they go along. We feel as though we've been forgotten, so at least now people are noticing us."
The Dutch judge has the power to ask the ECJ for clarity on a point of law. It is then up to the ECJ to decide whether it needs to provide this.
Many Brexit supporters resent the ECJ's power to overrule British court decisions on citizens' rights.
'Politically awkward'
Laywer Christiaan Alberdingk Thijm told the BBC his aim in the Dutch case was to establish the grounds under which Brits could lose their European citizenship.
"Can it be taken away from them?"
He added: "Theresa May said, 'Brexit means Brexit' now we are trying to work out on behalf of these people, what that actually means.
"We know how important it is to so many people."
British barrister Jolyon Maugham QC, who is funding the legal action and has been behind other Brexit challenges, said the case raised "a profoundly important question", which would affect not only Brits living abroad.
"If the case is successful, all of us will continue to benefit from EU citizenship rights after Brexit."
But this could be "politically awkward" for the remaining 27 member states.
"It would take out of their hands the question of what rights UK citizens would enjoy after Brexit.
"Those rights would no longer be a matter of political gift - EU law would continue to guarantee EU citizenship rights to those who are UK citizens at the date of Brexit. It would, potentially, weaken their position at the negotiating table."
This is a small case relating to one specific group.
But if their action is successful, they hope it will benefit some of the 1.2 million British nationals across the continent.