Berlin trainers double up as metro tickets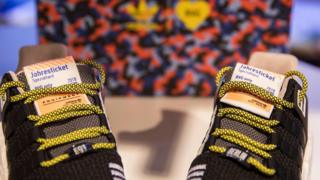 Dozens of people camped out overnight in the German capital in the hope of buying a pair of trainers that allows free travel on Berlin's metro.
Each pair of trainers sold by Adidas has an annual metro ticket worth €730 (£650/$895) sewn into its tongue.
The sportswear company was selling 500 pairs of the limited edition shoes for just €180.
They have been launched to commemorate the 90th anniversary of Berlin's public transport company.
There was a clamour for the shoes both at Adidas stores in Berlin and on the black market.
Nikita Dutschenko, a young man who camped out in sub-zero conditions and missed school to buy the shoes to sell on, told Reuters: "I already have a buyer who will pay 850 euros."
You might also like:
The chairwomen of Berlin's public transport company, the Berliner Verkehrsbetriebe (BVG), said that the collaboration with Adidas was "cool".
"It's great that the BVG is now becoming a style icon itself," Sigrid Nikutta said.
The company's official Twitter account tweeted humorously (in German) that people wearing the shoes should not put them "on the seat opposite".
One Twitter user joked he had found a way to mimic the trend by sticking his ticket in his shoe.
It is not the first time a sports company has worked together with a transport authority.
Adidas' competitor, Nike, made several designs of trainers with Tube lines in collaboration with Transport for London to mark the Tube's 150th anniversary in 2013.