Russia human rights: 'Arsonists' target offices of Memorial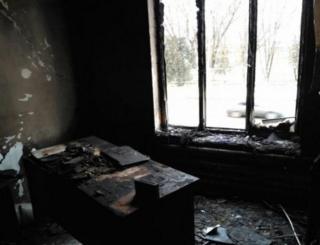 The prominent Russian human rights group Memorial says arsonists have set fire to its offices in the southern Russian republic of Ingushetia.
The organisation believes it is an attempt to stop its work in the region.
The attack comes a week after Memorial's local head in neighbouring Chechnya was arrested.
Memorial has recently investigated alleged abuse by Chechen authorities, including the persecution of gay men.
Video footage from outside the group's office in the town of Nazran shows two masked men climbing a ladder to a window and carrying what look like fuel canisters.
They then flee as fire breaks out destroying three rooms, equipment and documents.
Memorial has told the BBC it believes that both the fire and the arrest of Oyub Titiyev are intended to frighten its activists and to force them out of Chechnya.
Mr Titiyev was arrested in the Kurchaloi region of Chechnya, a Russian republic, on the way to a meeting on 9 January.
Police said they found more than 6oz (170g) of marijuana wrapped in a plastic bag in his car.
But Mr Titiyev says police planted the drugs on him, because of his human rights work.
His team has been investigating the alleged detention and torture of gay men - as well as critics of the region's head, Ramzan Kadyrov.
Memorial has also named people it believes to have been secretly shot dead by police in Chechnya.
A Kremlin spokesman told the BBC that the drugs case against Mr Titiyev was being investigated by police, but that it was not possible to conclude from the two incidents that there was a campaign to force human rights groups from Chechnya.
Last rights group remaining
By Sarah Rainsford, BBC News, Moscow
Memorial is the last major human rights group with a physical presence in Chechnya. Others have withdrawn following harassment and violence, and because many people inside Chechnya are simply too scared to report violations.
Groups like Human Rights Watch say neighbouring Ingushetia had become something of a 'home' for other activists and journalists gathering information and conducting interviews with those willing to travel to meet them from Chechnya.
Memorial says its own office in Ingushetia focuses on human rights violations in that republic. But it is making a direct link between this arson attack and the arrest last week of its Chechen office head, Oyub Titiyev.
His predecessor, Natalia Estemirova was abducted and killed in 2009. But Memorial persisted with its work, including investigating recent allegations of illegal detentions and torture by Chechen security forces.
In a post on Facebook, Nils Muižnieks, the Council of Europe Commissioner for Human Rights, said Wednesday's arson attack was "extremely worrying".
He condemned the arrest of Mr Titiyev, and said: "I firmly condemn this succession of events that illustrates the threatening climate in which human rights defenders work in the North Caucasus."
He added that the incidents showed "the authorities' failure to uphold their obligation to ensure a safe and enabling environment for human rights defenders".