Catalonia MPs elect separatist speaker as parliament reconvenes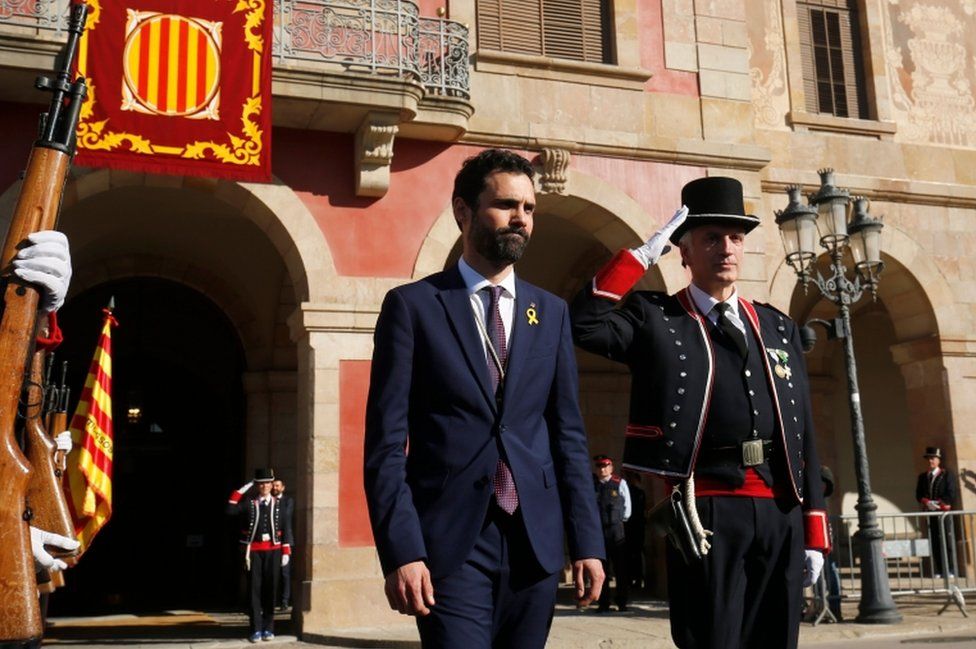 Catalan MPs in Barcelona have elected a pro-independence speaker at their first meeting since Madrid dissolved the region's parliament.
The choice of Roger Torrent is the first step to reinstating local government.
Separatist parties, who remain dominant after December's election, want Carles Puigdemont to be president again.
But the ex-leader risks arrest if he returns from self-imposed exile in Belgium.
He is wanted by Spain on charges of rebellion and sedition over last year's independence drive.
And Spanish Prime Minister Mariano Rajoy says Catalonia's autonomous powers will not be restored, if the regional parliament permits Mr Puigdemont to lead the government from exile.
Mr Rajoy took direct control of the region - sacking its leaders and dissolving its parliament - after Mr Puigdemont and his government declared independence in October.
Separatist lawmakers secured control of parliament on Wednesday with the election of Mr Torrent, a member of the left-wing separatist ERC party.
He beat an anti-independence candidate by 65 votes to 56.
The session was broadcast to a flag-waving crowd outside.
ERC's leader, Oriol Junqueras, is among three Catalan MPs in prison awaiting trial over the independence push. But they were allowed to vote to select a parliamentary speaker via proxies.
Five others in self-imposed exile in Belgium did not assign proxies. Yellow ribbons were placed on their empty seats.
The MPs also met to select a board who will decide who gets the first chance to form a government. It will have two weeks to pick a president.
It is likely to nominate Mr Puigdemont to lead the region, and his supporters say he could potentially do so via video link from Belgium.
But lawyers for the Catalan parliament council, an advisory body, have said it would not be legal or within the Spanish constitution to allow for a president in exile.