Jenny Lister over the moon about space award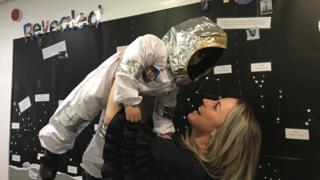 A school teacher from County Down has been rewarded for future-proofing her pupils for a life in space.
Jenny Lister, from Donaghadee, has so inspired the pupils at her London primary school that many of them now want to be astronauts and astronomers.
Through events such as a star-gazing slumber party, she has switched the students on to space and science.
And for all her hard work, she has been awarded the Patrick Moore medal from the Royal Astronomical Society.
It is presented for a "particularly noteworthy contribution to astronomy or geophysics by school teachers".
Launch pad
Miss Lister participated in British astronaut Tim Peake's primary project and took it to another galaxy by organising competitions, science weeks and stargazing events.
"The whole school has just really got into space," she said.
"They love science but they really love space, right from the nursery kids up to the 11-year-olds.
"Lots of the children now want to be astronauts or help build the equipment needed to put people into space."
Miss Lister, who is her school's science lead, said she had been telling her pupils that they could be living in space one day.
"I'm trying to promote that with the children, science is for them," she added.
"It's not just a man in a lab with mad hair and a white coat."
"There is a lower percentage of females getting into sciences so I really try to enforce that science and space are for everyone."
Hot chocolate
One of the most popular events she organised was a star-gazing slumber party.
She borrowed binocular and star maps from the Royal Astronomical Society (RAS).
"After school, after dark, all the kids and their friends and families came back to school in their pyjamas.
"Then we all had hot chocolate, went outside and used the binoculars to look at stars. It was lovely how even the three-year-olds could see them and get so enthusiastic about it."
She said she also read them Belfast-author Oliver Jeffers' How to Catch a Star.
The RAS said Miss Lister's work was "phenomenal".
"Miss Lister shows how space can engage a whole school and give students, staff and parents wonderfully exciting experiences understanding our universe," a spokesman said.
She will receive her medal at a ceremony in April.