France baby milk scandal explained in 100 and 500 words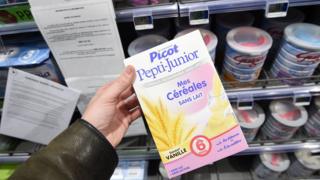 A salmonella scandal affecting baby milk products at the world's second biggest producer of dairy products has been ongoing for several weeks.
It has led to massive recalls of products across the world, and caused some babies to be treated in hospital.
To bring you up to date, here's all the background you need to know in 100 words or 500 words - you can read each individually or in turn.
Salmonella bacteria was found in a factory belonging to French company Lactalis in December. Since then, more than 12m boxes of powdered baby milk have been recalled in 83 countries.
At least 35 babies have fallen ill in France alone, and parents whose children were affected have filed lawsuits. Prosecutors are investigating Lactalis.
The contamination is believed to have occurred as a result of renovations at a factory in northern France that has since been temporarily closed. The recall affects all products made at the factory, regardless of when they were produced.
The Picot, Milumel, Celia and Taranis brands have all been recalled.
Lactalis is a dairy industry giant, second only to Nestlé in terms of how much it produces, with annual sales of €17bn ($21bn; £15bn).
So the fact it has had to order a huge recall - 12m boxes of powdered baby milk across 83 countries - has been a source of scandal in France and beyond.
How bad is it?
So far, it's known that 35 babies in France, and one in Spain, have fallen ill with salmonella poisoning, which can cause stomach cramps, vomiting and severe dehydration. There is one suspected case in Greece.
Salmonella can be life-threatening to infants. In France, 18 of the infants taken ill required hospital treatment, and all are understood to have recovered.
The first recall was ordered on 11 December, but it later emerged that some of the recalled products had still found their way on to supermarket shelves. Two more recalls have taken place since.
The problems affect the Picot, Milumel, Celia and Taranis brands only.
What is the cause?
Lactalis says it believes the roots of the contamination started after renovation work at its factory in Craon, north-west France, last spring. Investigations are focusing on a tower used to dry baby milk powder.
The company's president Emmanuel Besnier told the Journal du Dimanche newspaper that two other bacterial outbreaks were spotted in August and November last year, leading to deep cleans.
Lactalis was told on 1 December of 20 cases of salmonella and a link was made almost immediately to the Craon factory, where work has been suspended.
Mr Besnier, said by Forbes to be France's eighth richest man, denied the firm had attempted to hide December's outbreak.
What's the fallout?
On 17 January, investigators raided several Lactalis properties, including the factory in Craon. Reuters reported they were looking for technical data to establish how the contamination occurred.
In late December, the Paris prosecutor opened a preliminary probe into the contamination and the French government has warned the company it must expect penalties over its handling of the affair.
Mr Besnier has promised the company will compensate any families affected, but lawsuits are also in the works.
There's also growing anger among the 250 staff at Craon who are unemployed until the factory reopens. Many had to agree to humiliating tests to see if they were the source of the salmonella outbreak, French media say.
Could you be affected?
It depends where you live.
The UK, US and Australia were not affected by the recall, a Lactalis spokesman told the BBC. Two of the biggest export markets are Algeria and China, which accounts for 10% of French baby powder exports, the Financial Times reports.
All of the affected countries - in Europe (which makes up 58% of Lactalis' market), Asia, Latin America and Africa - have been informed.
If you're worried, you can visit the Lactalis website, where you can look up the names of all affected products. Authorities have not published a comprehensive list of the affected countries.
The links on the Lactalis website take you to the individual sites of each brand affected, that have detailed Q&As on the recall.